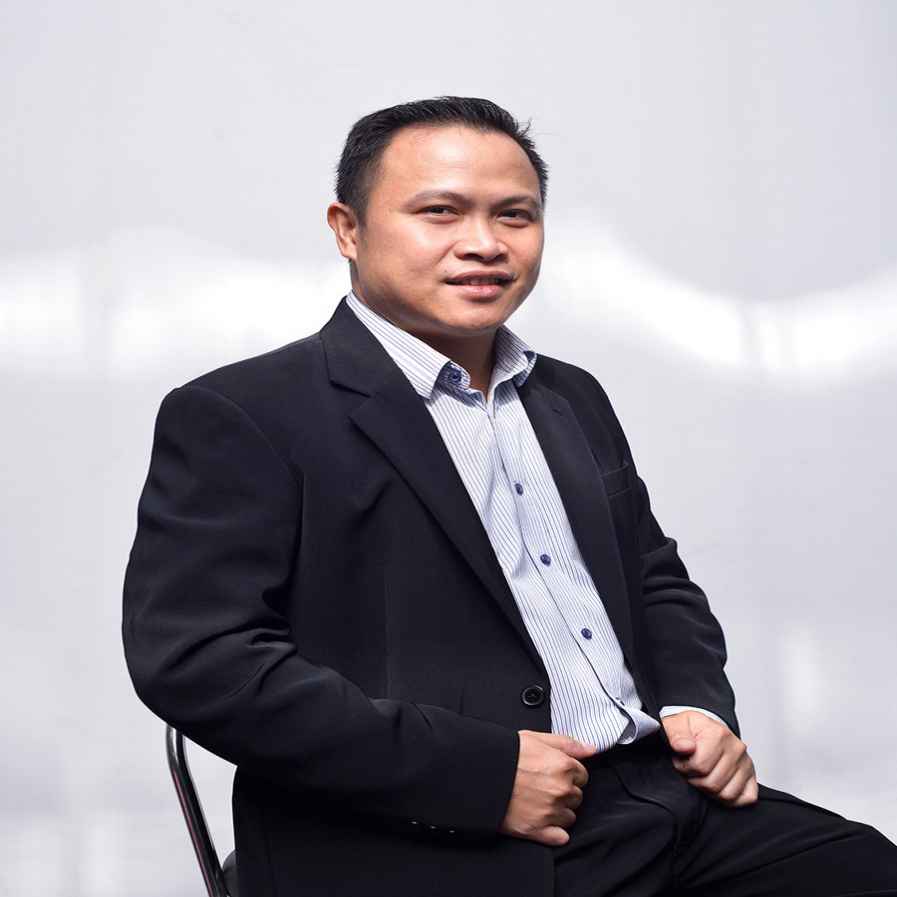 Phd Kejuruteraan Kimia(2009)
Loughborough University, UK
Teaching And Learning For Postgraduate(2007)
Loughborough University, UK
Msc. Env. Eng.(2004)
Universiti Putra Malaysia
B. Eng. (Chemical)(2002)
Universiti Putra Malaysia
Plc Basic & Advanced Certificate(2002)
Universiti Putra Malaysia
Biography
---
Jolius received both his B.Eng. (Chemical) and M.Sc. (Env. Eng.) from Universiti Putra Malaysia, in 2002 and 2004, respectively. In 2006 he was awarded a scholarship to pursue a PhD within the Product Formulation Group in Department of Chemical Engineering, Loughborough University UK and was awarded a PhD in 2009. Jolius is a MyRA IPT Panel (KPM), FRGS Panel (KPM) and Accreditation Panel for ETAC (BEM).
Jolius is currently an associate professor at FKKSA UMP since 2014. He is a founding deputy director of Centre of Excellence for Advanced Research in Fluid Flow (CARiFF), Universiti Malaysia Pahang (UMP).
Dr. Gimbun specialised in computational fluid dynamics (CFD) and population balance modeling. He has over 16 years of experience in CFD, where he has been involved in a wide range of activities varying from algorithm development to complex flow simulation arising from his work at UPM, UMP and Loughborough. He had performed CFD simulations for academic research as well as for industrial application. Recently, he has shifted focus to apply his chemical engineering skills on food engineering (herbal processing) and biofuel (syngas, biodiesel and bioethanol).
Scopus ID: 6506913348 (H-index 15, Citations 961)
ResearcherID: D-8293-2011
Publons: 1176060
Web: https://sites.google.com/site/thegimbungroup
| No | Code | Subject |
| --- | --- | --- |
| 1 | BKB3912 | PROCESS & PLANT DESIGN I |
| 2 | BKC4913 | PROCESS & PLANT DESIGN I |
| 3 | BKB4913 | PROCESS & PLANT DESIGN I |
| 4 | BKF1333 | THERMODYNAMICS |
| 5 | BKC3912 | PROCESS & PLANT DESIGN I |
| 6 | BKG3912 | PROCESS & PLANT DESIGN I |
| 7 | BKC3873 | MIXING OF FLUIDS & PARTICLES (E) |
| 8 | BKG4913 | PROCESS & PLANT DESIGN I |
| 9 | DKK1751 | BASIC ENGINEERING LAB |
| 10 | BKF3731 | UNIT OPERATION LAB |
| No. | Title | Role | Start Date | End date | Agency | Grant Amount(RM) | Status |
| --- | --- | --- | --- | --- | --- | --- | --- |
| 1 | Computational Fluids Dynamics Of Hydrocyclone Desander: Design And Analysis | Leader | 20-JUL-2019 | 19-OCT-2020 | INDUSTRI | 32,000.00 | - |
| 2 | Extraction And Profiling Of Phaluria Macrocarpa Polyphenol Compounds | Leader | 15-MAR-2019 | 14-MAR-2021 | PGRS | 2,500.00 | - |
| 3 | Edotco Lab Bamboo Application: Chemical Treatment And Structural Design | Leader | 09-JAN-2019 | 09-JAN-2020 | CONTRACT RESEARCH PROJECT | 21,400.00 | - |
| 4 | Elucidating The Mechanism Of Chlorine Gas Dispersion Under The Influence Of Surface Topography And Seasonal Monsoon Wind Around East Coast Peninsular Malaysia | Leader | 01-JAN-2019 | 30-SEP-2021 | FRGS | 88,000.00 | On-Going |
| 5 | Effect Of Auxiliary Energy On The Yield Of Polyphenols Extraction From Andrographis Paniculata | Leader | 15-JUN-2018 | 14-SEP-2020 | GERAN DALAM | 35,500.00 | - |
| 6 | Thermal Degradation Kinetics And Microencapsulation Of Pollyohenols Derived From Andrographis Paniculata | Leader | 01-MAR-2018 | 28-FEB-2021 | PGRS | 3,500.00 | - |
| 7 | Effect Of Auxiliary Energy Of Polyphenols Extraction In Cassia Alata | Leader | 01-MAR-2018 | 28-FEB-2020 | PGRS | 2,500.00 | - |
| 8 | Misai Kucing Based Supplement For Diuretic And Anti-Diabetic | Leader | 10-JUL-2017 | 09-JUL-2018 | UMP PRE-COMMERCIALIZATION | 64,000.00 | - |
| 9 | Extraction And Microencapsulation Of Polyphenols From Phyllanthus Niruri | Leader | 01-MAR-2017 | 01-MAR-2019 | PGRS | 3,000.00 | - |
| 10 | Elucidation Of Thermal Degradation Kinetics Of Labisia Pumila'S Polyphenols | Leader | 01-MAR-2017 | 01-MAR-2019 | PGRS | 3,000.00 | - |
| 11 | Elucidation Of Thermal Degradation Kinetics Of Labisia PumilaS Polyphenols | Leader | 01-AUG-2016 | 31-JUL-2018 | FRGS | 101,800.00 | - |
| 12 | Thermal Degradation Kinetics And Control Release Study Of Polyhenols From Labisia Pumila | Leader | 01-MAY-2016 | 30-APR-2019 | PGRS | 4,000.00 | - |
| 13 | Computational Fluid Dynamics And Population Balance Modelling Of Gas-Liquid System In Airlift Reactor | Leader | 01-MAY-2016 | 30-APR-2018 | PGRS | 3,000.00 | - |
| 14 | Fabrication Of 3d Hierarchical Scaffolds By Electrospinning Bleded With Bioceramics For Drug Delivery Applications | Leader | 25-AUG-2015 | 24-AUG-2018 | PGRS | 8,000.00 | - |
| 15 | Assessment Of Pollution Dispersion From Gebeng Industrial Area | Leader | 01-APR-2015 | 31-MAR-2017 | GERAN DALAM | 28,000.00 | Finished |
| 16 | Thermal Degradation Kinetics And Control Release Study Of Polyphenols From Orthsiphon Stamineus | Leader | 25-FEB-2014 | 24-FEB-2017 | PGRS | 6,000.00 | - |
| 17 | Transesterfication Of Vegetable Oil Using A Continuous Microwave Assisted Reactor (Cmar) | Leader | 25-FEB-2014 | 24-FEB-2016 | PGRS | 4,000.00 | - |
| 18 | Computational Fluid Dynamis Study Of Industrial Boiler | Leader | 25-FEB-2014 | 24-FEB-2016 | PGRS | 2,600.00 | - |
| 19 | Elucidation Of Thermal Degradation Kinetics Of Polyphenols From Orthosiphon Stamineus | Leader | 01-DEC-2013 | 30-NOV-2015 | FRGS | 74,500.00 | - |
| 20 | Identification Of Biomarkers From Averrhoa Bilimbi And Its Thermal Stability During Spray Drying | Leader | 01-APR-2013 | 31-MAR-2016 | PGRS | 5,000.00 | - |
| 21 | Thermals Denaturation Of Whey Protein And Maltodextrin Emulsion | Leader | 01-DEC-2012 | 30-NOV-2013 | ANTARABANGSA PELAJAR | 20,000.00 | - |
| 22 | Thermodynamics And Degradation Kinetics Study Of Flavonoids And Phenolic Acids From Orthosiphon Stamineus | Leader | 15-NOV-2012 | 14-NOV-2014 | RACE | 37,800.00 | Finished |
| 23 | Development Of An Organically Derived New Microencapsulant To Preserve Nutraceuticals In Habbatus Sauda Extract From Heat Degradation During Spray Drying | Leader | 15-JUL-2012 | 14-JUN-2014 | GERAN DALAM | 36,262.00 | - |
| 24 | Identification Of Biomarker From Orthosihon Stamineus And Study Of Its Thermal Stability During Spray Drying | Leader | 15-JUN-2012 | 14-MAY-2014 | PGRS | 4,500.00 | - |
| 25 | Microencapsulation Of Protein To Minimize Its Denaturation During Spray Drying | Leader | 15-JUN-2012 | 14-MAY-2014 | PGRS | 4,500.00 | - |
| 26 | Synthesis Of Limestone Based Catalyst For Biodiesel Production From Rubber Seed Oil | Leader | 15-JUN-2012 | 14-MAY-2014 | PGRS | 4,500.00 | - |
| 27 | Catalyst Synthesis From Limestone Catalyst For Biodiesel And Syngas Production Including The Socio-Ecomomic Assessment | Leader | 01-JUN-2012 | 30-JUN-2014 | PUSAT KECEMERLANGAN MTUN (COE MTUN) | 150,930.00 | - |
| 28 | Solid Catalyst System And Multiple Tubular Reactor Designing For Biodiesel Production | Leader | 15-NOV-2010 | 31-MAR-2012 | PGRS | 6,500.00 | - |
| 29 | Assesment Of Protein Denaturatiion During The Scale-Up Process Of Spray Drying | Leader | 01-OCT-2009 | 31-MAR-2012 | GERAN DALAM | 40,000.00 | - |
| 30 | Scale-Up Of Gas-Liquid Stirred Tank Bioreactors | Leader | 01-AUG-2009 | 31-JAN-2012 | GERAN DALAM | 40,000.00 | - |
| 31 | Cfd Modeling For Aerocyclones Optimisation Design Scale-Up And Troubleshooting. | Leader | 15-JUL-2005 | 14-JUL-2006 | FRGS | 0.00 | - |
| 32 | Interaction Of Antimicrobial/Antioxidant Additives With Semi-Refined Carrageenan Nanocomposite Film For Active Packaging Films To Prolong Food Shelf Life | Member | 30-DEC-2019 | 29-MAR-2022 | GERAN DALAM | 33,479.00 | On-Going |
| 33 | Kinetic Study And Extraction Mechanism Of Flavanoid From Clitoria Ternatea (Butterfly Pea Flower). | Member | 15-DEC-2019 | 14-MAR-2022 | GERAN DALAM | 33,000.00 | On-Going |
| 34 | Assessment Of The Wake Flow Mechanism Of Spanwise Expansion Interference By Rough Wall Boundary Turbulence | Member | 01-SEP-2019 | 31-MAY-2022 | FRGS | 107,200.00 | On-Going |
| 35 | Wind Tunnel Experimental Study On Aerodynamic Interaction Between Rough Wall Boundary Layer With Wake Behind Vortices Generators | Member | 15-AUG-2019 | 14-NOV-2021 | GERAN DALAM | 36,500.00 | On-Going |
| 36 | Approach To Bioremediation: Isolation And Identification Of Potential Photosynthetic Micro-Algae For Biodegradation Of Plastic Waste In Malaysia. | Member | 01-MAY-2019 | 30-JUL-2021 | GERAN DALAM | 34,500.00 | On-Going |
| 37 | Sustainable Construction Materials | Member | 01-APR-2019 | 28-JUN-2019 | ANTARABANGSA | 15,811.00 | - |
| 38 | Formulation Of Reinforced Bioplastic From Polysaccharide Seaweed | Member | 30-DEC-2018 | 29-MAR-2021 | GERAN DALAM | 33,500.00 | - |
| 39 | Bioactive Macromolecules From Selected Microalgae Strain Amphora Sp. And Pavlova Sp. For Pharmacuetical Applications | Member | 15-OCT-2018 | 14-JAN-2022 | FLAGSHIP UMP | 63,900.00 | On-Going |
| 40 | Theoretical Investigation Of Three-Dimensional Mass Transfer Enhancement Mechanism In Membrane Systems Through Multi-Layer Spacer Mixing Technique | Member | 15-JUN-2018 | 14-SEP-2020 | GERAN DALAM | 32,000.00 | - |
| 41 | Microencapsulations Of Mahkota Dewa Plant Extracts Using Spray Drying Technique | Member | 05-MAY-2018 | 04-AUG-2020 | GERAN DALAM | 30,500.00 | - |
| 42 | Radical Scavenging Kinetics Of The Phenolic Compounds In Malaysia Stingless Bee Honey | Member | 05-APR-2018 | 04-JUL-2020 | GERAN DALAM | 30,000.00 | - |
| 43 | Structural Behaviour Of Rc Beams With Openings Strengthened With Bfc Plates | Member | 05-APR-2018 | 04-APR-2020 | GERAN DALAM | 36,000.00 | - |
| 44 | Production And Characterization Of Chitosan Nanofibers Using Electrospining Method | Member | 05-APR-2018 | 04-JUL-2020 | GERAN DALAM | 36,000.00 | - |
| 45 | Identification Of Bamboo Species In Malaysia For Applications In Concrete Reinforcement Or Bamboo Reinforced Concrete And Other Applications | Member | 08-JAN-2018 | 07-JUN-2018 | CONTRACT RESEARCH PROJECT | 42,717.43 | Finished |
| 46 | Microfluidics Desalination System | Member | 01-JAN-2018 | 01-JAN-2020 | GERAN DALAM | 34,000.00 | - |
| 47 | Kacip Fatimah - Based Supplement For Women Wellness As Well Weight Control | Member | 10-JUL-2017 | 09-JUL-2018 | UMP PRE-COMMERCIALIZATION | 57,000.00 | - |
| 48 | Development And Encapsulation Of Propolis Powder From Raw Propolis Of Stingless Bees Species | Member | 20-JUN-2017 | 19-JUN-2019 | GERAN DALAM | 25,720.00 | - |
| 49 | Fundamental Study On The Effect Of Physical Properties Of Wheat Flour Dust Towards The Explosibility Characteristics Of Wheat Flour Dust Explosion | Member | 15-JUN-2017 | 14-JUN-2019 | GERAN DALAM | 20,500.00 | - |
| 50 | Unsteady Flow Strategies To Improve Permeate Flux In Spiral Wound Reverse Osmosis Membrane Systems: A Numerical Study | Member | 01-MAR-2017 | 01-MAR-2019 | GERAN DALAM | 30,000.00 | - |
| 51 | Finite Element Method Based Algorithm Enhancement And Heat Transfer Through Fins In Automotive And Other Daily Appliances | Member | 01-MAR-2017 | 01-MAR-2019 | GERAN DALAM | 22,000.00 | Finished |
| 52 | Halal Kacip-Fatimah Based Cocoa Drink | Member | 15-JAN-2017 | 14-JAN-2018 | LAB2MARKET SEED FUND | 19,160.00 | - |
| 53 | Pilot Scale Ultrasonic Assisted Extraction Of Eurycoma Species, Labisia Species, And Ficus Species For Cosmeceutical And Nutraceutical Application | Member | 04-OCT-2016 | 03-OCT-2018 | PRGS | 150,000.00 | - |
| 54 | Development Of Mathematical Model And Simulation For Enzymatic Hydrolysis Of Cellulose In A Stirred Tank | Member | 01-AUG-2016 | 31-JUL-2019 | FRGS | 110,300.00 | - |
| 55 | Concentration Polarisation Minimisation In Reverse Osmosis Membrane Channels Through Electro-Osmotic Mixing Technique | Member | 25-MAY-2016 | 24-MAY-2018 | GERAN DALAM | 25,000.00 | Finished |
| 56 | Elucidation On The Effect Of External Strengthening Technique By Bamboo Fiber Composite To The Mechanical Properties And Durability Of Rc Beams With Openings In The Shear Zones | Member | 01-DEC-2015 | 30-NOV-2017 | RAGS | 58,150.00 | Finished |
| 57 | Kinetic Reaction Analysis Of Catalytic Syngas Production From Glycerol | Member | 01-FEB-2015 | 31-JAN-2017 | RACE | 50,000.00 | Finished |
| 58 | Kinetics And Spectroscopic Analyses Of Syngas Production From Glycerol Steam Reforming Over 15wt%Ni/85wt% Alumina Catalyst | Member | 01-JUL-2014 | 30-JUN-2016 | FRGS | 106,000.00 | Finished |
| 59 | Fundamental Study Of Fischer-Tropsch Reaction Mechanism Over A Cobalt-Based Catalyst | Member | 01-JUL-2014 | 30-JUN-2016 | FRGS | 85,000.00 | Finished |
| 60 | Fundamental Investigation Of Methane Dry Reforming Over Lanthanide-Group Promoted Co/Ai2o3 Catalysts | Member | 01-JUN-2014 | 31-MAY-2016 | GERAN DALAM | 39,000.00 | Finished |
| 61 | Synthesis And Characterization Of Efb-Cliker Supported Nickel Catalyst For Syngas Production From Reactive Fluid Mixture Of Co2-Ch4 | Member | 01-APR-2014 | 31-MAR-2016 | GERAN DALAM | 24,900.00 | Finished |
| 62 | Computational Fluid Dynamics Technique Using Finite Element Analysis For Tumor Detection Using Ultrasound And Mammogram Patient Images | Member | 01-APR-2014 | 31-MAR-2016 | GERAN DALAM | 20,500.00 | Finished |
| 63 | Development Of Electrocatalyst For Air Cathode Microbial Fuel Cell For Power Generation And Simultaneous Treatment Of Palm Oil Mill Effluent | Member | 01-APR-2014 | 31-MAR-2016 | GERAN DALAM | 29,950.00 | Finished |
| 64 | Simulating The Drug Delivery In Human Blood Streams By Investigating The Solid-Liquid Flow Behavior In Micro-Channels: An Experimental Approach | Member | 01-APR-2014 | 31-MAR-2016 | GERAN DALAM | 30,300.00 | Finished |
| 65 | Waste Water Treatment With Moringo Oleifera Seeds Cake Residue | Member | 01-MAR-2014 | 31-MAR-2016 | GERAN DALAM | 22,700.00 | Finished |
| 66 | Transfer Of Ultrasound-Assisted Extraction (Uae) Knowledge For The Production Of Value Added Products From Local Herbs Of Eurycoma Longifolia (Tongkat Ali), Labisia Pumila (Kacip Fatimah) And Ficus Deltoidea (Mas Cotek) For Cosmeceutical And Nutraceutical Applications) | Member | 15-JUL-2013 | 14-JUL-2015 | KNOWLEDGE TRANSFER PROGRAMME (KTP) | 146,393.33 | - |
| 67 | Synthesis And Characterization Of Heterogeneous Catalyst For The Esterification Of Free Fatty Acid Lin Acidified Oil | Member | 15-MAY-2013 | 14-MAY-2015 | GERAN DALAM | 38,650.00 | Finished |
| 68 | The Synthesis And Characterization Of Novel Catalyst For Carbon Dioxide Dry Reforming Of Glyeerol For Syngas Production Using Metal Based Catalyst Supported On Oxide | Member | 01-APR-2013 | 31-MAR-2015 | FRGS | 92,300.00 | - |
| 69 | The Investigation Of Molecular Solution Chemistry Linking To The Thermodynamics Properties Of Active Pharmaceutical Ingredient Polymorph | Member | 15-JUL-2012 | 14-JUL-2015 | ERGS | 80,000.00 | - |
| 70 | A Novel Syngas Production Method Via Photoreforming Of Pome Waste Over Tio2- Supported Noble Metal-Doped Photocatalysts | Member | 15-JUL-2012 | 14-JUN-2014 | ERGS | 50,000.00 | - |
| 71 | An Ultimate Green Route In Harnessing H2 Fuel Employing Sunlight And Water As Reactants | Member | 01-JUN-2012 | 31-MAY-2014 | GERAN DALAM | 39,000.00 | - |
| 72 | Formulation Mechanism Of Photocalalyst And It'S Kinetic Study For Co2 Reduction | Member | 01-MAY-2012 | 30-APR-2014 | FRGS | 86,180.00 | - |
| 73 | Carbamazepine Co-Crystals Formulation With Discarboxylic Acid In Pharmaceutical Co-Crystallisation Processes | Member | 01-MAY-2012 | 30-APR-2014 | FRGS | 64,000.00 | - |
| 74 | Front End Engineering Design (Feed) Of A Gmp Regulated Biopharmaceutical Active Pharmaceutical Of Ingredient Manufacturing Facility | Member | 15-OCT-2011 | 14-APR-2014 | GERAN DALAM | 31,600.00 | - |
| 75 | Modeling Dynamics Simulation Of Aspergillus Sp.Biotransformation Of Patchoulol By Molecular Mechanical Approach | Member | 01-FEB-2011 | 31-JAN-2013 | FRGS | 97,000.00 | - |
| 76 | Development Of A New Solid Catalyst From Industrial Waste For Biodiesel Production From Forest Seed Oil In Tubular Reactor | Member | 01-JAN-2011 | 31-DEC-2012 | GERAN DALAM | 74,000.00 | - |
| 77 | Study The Reaction Mechanism Of The Production Of Novel Biopolymer (Poly (3-Hydroxybutyrate) (Phb) From The Forest Seed Oils | Member | 15-SEP-2010 | 13-MAR-2013 | FRGS | 52,000.00 | - |
| 78 | Performance And Emission Characteristic Of A Diesel Engine Operating With Biofuel | Member | 15-MAY-2010 | 14-MAY-2011 | GERAN DALAM | 26,000.00 | - |
| 79 | Process Optimization In Production Of Monoclonal Antibody Against 17-Cah. | Member | 05-APR-2005 | 04-APR-2006 | FRGS | 40,000.00 | - |
| No | Type | Author Role | Document Title | Authors | Year | Source |
| --- | --- | --- | --- | --- | --- | --- |
| 1 | Conference Paper | CO-AUTHOR | Effect of Soil Burial on Mechanical Properties of Bamboo Fiber Reinforced Epoxy Composites | Chin S.C., Tong F.S., Doh S.I., Lim K.S., Gimbun J. | 2020 | Iop Conference Series: Materials Science And Engineering |
| 2 | Conference Paper | AUTHOR | Influence of monsoon seasons on accidental chlorine leak and dispersion around Gebeng industrial area | Law W.P., Abdul Aziz B., Rani S.I., Gimbun J. | 2020 | Iop Conference Series: Materials Science And Engineering |
| 3 | Article | AUTHOR | Ultrasound-assisted extraction for enhanced retention of physicochemical properties of garlic powder obtained by spray-drying | Poojitha P., Gimbun J., Yeop A., Athmaselvi K.A. | 2020 | Journal Of Applied Pharmaceutical Science |
| 4 | Conference Paper | CO-AUTHOR | Explosion of rice flour at different concentration and moisture content | Wan Sulaiman W.Z., Mohd Idris M.F., Gimbun J., Sulaiman S.Z. | 2020 | Iop Conference Series: Materials Science And Engineering |
| 5 | Article | CO-AUTHOR | Assessment of explosibility and explosion severity of rice flour at different concentration and ignition time | Wan Sulaiman W.Z., Mohd Idris M.F., Gimbun J., Sulaiman S.Z. | 2020 | Process Safety Progress |
| 6 | Conference Paper | AUTHOR | Dispersion of Irregular Particles during Free Fall | Fadzir A.F.M., Rani S.I., Gimbun J. | 2020 | Journal Of Physics: Conference Series |
| 7 | Article | AUTHOR | Biodiesel synthesized from waste cooking oil in a continuous microwave assisted reactor reduced PM and NOx emissions | Mohd Ali M.A., Gimbun J., Lau K.L., Cheng C.K., Vo D.-V.N., Lam S.S., Yunus R.M. | 2020 | Environmental Research |
| 8 | Conference Paper | AUTHOR | Modeling the effect of hypothetical chlorine leakage from Malay-Sino Chemical Industries using ALOHA software and development of an emergency evacuation route around Teluk Kalong industrial area | Law W.P., Gimbun J. | 2020 | Iop Conference Series: Materials Science And Engineering |
| 9 | Article | CO-AUTHOR | Thermal and mechanical properties of bamboo fiber reinforced composites | Chin S.C., Tee K.F., Tong F.S., Ong H.R., Gimbun J. | 2020 | Materials Today Communications |
| 10 | Proceedings Paper | AUTHOR | Assessment of Size Reduction and Extraction Methods on the Yield of Gallic Acid from Labisia pumila Leaf via Microstructures Analysis | Yeop, A; Pang, SF; Law, WP; Yusoff, MM; Gimbun, J | 2019 | Materials Today-Proceedings |
| 11 | Proceedings Paper | AUTHOR | Assessment of Maceration, Ultrasonic and Microwave Assisted Extraction for Total Phenolic Content, Total Flavonoid Content and Kaempferol Yield from Cassia alata via Microstructures Analysis | Ling, YY; Fun, PS; Yeop, A; Yusoff, MM; Gimbun, J | 2019 | Materials Today-Proceedings |
| 12 | Proceedings Paper | AUTHOR | Effect of Humidity on Formation of Electrospun Polycaprolactone Nanofiber Embedded with Curcumin using Needdleless Electrospinning | Ramakrishnan, R; Ramakrishnan, P; Ranganathan, B; Tan, CW; Sridhar, TM; Gimbun, J | 2019 | Materials Today-Proceedings |
| 13 | Conference Paper | AUTHOR | Experimental measurement for non-spherical bulk materials flow behaviour in rectangular enclosure | Mohd Fadzir A.F., Rani S.I., Gimbun J. | 2019 | Iop Conference Series: Materials Science And Engineering |
| 14 | Conference Paper | CO-AUTHOR | Strengthening of reinforced concrete beams using bamboo fiber/epoxy composite plates in flexure | Chin S.C., Moh J.N.S., Doh S.I., Yahaya F.M., Gimbun J. | 2019 | Key Engineering Materials |
| 15 | Book Chapter | AUTHOR | Orthosiphon stamineus (Java Tea) | Jolius Gimbun, Sook Fun Pang and Mashitah M. Yusoff | 2019 | Nonvitamin And Nonmineral Nutritional Supplements |
| 16 | Review | CO-AUTHOR | An overview of chitosan nanofibers and their applications in the drug delivery process | Al-Jbour N.D., Beg M.D., Gimbun J., Alam A.K.M.M. | 2019 | Current Drug Delivery |
| 17 | Article | AUTHOR | Assessment of Phenolic Compounds Stability and Retention during Spray Drying of Phyllanthus niruri Extracts | Gimbun J., Nguang S.L., Pang S.F., Yeong Y.L., Kee K.L., Chin S.C. | 2019 | Industrial And Engineering Chemistry Research |
| 18 | Article | AUTHOR | Assessment of chlorine leak dispersion around Gebeng industrial area and potential evacuation route | Law W.P., Erain N., Ramli N.I., Gimbun J. | 2019 | Atmospheric Research |
| 19 | Article | CO-AUTHOR | Synthesis and characterization of a LaNi/-Al2O3 catalyst and its use in pyrolysis of glycerol to syngas | Shahirah M.N.N., Gimbun J., Lam S.S., Ng Y.H., Cheng C.K. | 2019 | Renewable Energy |
| 20 | Article | CO-AUTHOR | Correlation between the extraction yield of mangiferin to the antioxidant activity, total phenolic and total flavonoid content of Phaleria macrocarpa fruits | Lim Y.P., Pang S.F., Yusoff M.M., Abdul Mudalip S.K., Gimbun J. | 2019 | Journal Of Applied Research On Medicinal And Aromatic Plants |
| 21 | Article | AUTHOR | Correlation between the total phenolic, total flavonoid and antioxidant content of phaleriamacrocarpa extract | Lim Y.P., Pang S.F., Yusoff M.M., Bin Gimbun J. | 2019 | International Journal Of Recent Technology And Engineering |
| 22 | Article | CO-AUTHOR | Application of bamboo fibre composite in structural strengthening | Choo C.S., Lim S.P., Tong F.S., Doh S.I., Lim K.S., Gimbun J. | 2019 | Malaysian Construction Research Journal |
| 23 | Article | AUTHOR | Correlation between the antioxidant, total flavonoid and total phenolic content of phaleria macrocarpa fruit extract | Lim Y.P., Pang S.F., Yusoff M.M., Gimbun J. | 2019 | International Journal Of Recent Technology And Engineering |
| 24 | Article | AUTHOR | Thermal performance enhancement of non-premixed syngas combustion in a partial combustion unit by winged nozzle: Experimental and CFD study | Law W.P., Gimbun J. | 2019 | Energy |
| 25 | Article | AUTHOR | Effect of solution properties and operating parameters on needleless electrospinning of poly(Ethylene oxide) nanofibers loaded with bovine serum albumin | Ramakrishnan R., Gimbun J., Ramakrishnan P., Ranganathan B., Reddy S.M.M., Shanmugam G. | 2019 | Current Drug Delivery |
| 26 | Article | CO-AUTHOR | Influence of alkali treatment on physico-chemical properties of Malaysian bamboo fiber: A preliminary study [Pengaruh rawatan alkali terhadap sifat-sifat fizikal-kimia serat buluh Malaysia: Satu kajian awal] | Tong F.S., Chin S.C., Mustafa M.T., Ong H.R., Khan M.M.R., Gimbun J., Doh S.I. | 2018 | Malaysian Journal Of Analytical Sciences |
| 27 | Article | AUTHOR | A computational fluid dynamics study of turbulence, radiation, and combustion models for natural gas combustion burner | Pang Y.S., Law W.P., Pung K.Q., Gimbun J. | 2018 | Bulletin Of Chemical Reaction Engineering & Catalysis |
| 28 | Article | AUTHOR | A comprehensive review on Ocimum basilicum | Purushothaman B., Prasannasrinivasan R., Suganthi P., Ranganathan B., Gimbun J., Shanmugam K. | 2018 | Journal Of Natural Remedies |
| 29 | Conference Paper | CO-AUTHOR | Strengthening Performance of PALF-Epoxy Composite Plate on Reinforced Concrete Beams | Chin S.C., Tong F.S., Doh S.I., Gimbun J., Ong H.R., Serigar J.P. | 2018 | Iop Conference Series: Materials Science And Engineering |
| 30 | Article | CO-AUTHOR | Catalytic pyrolysis of glycerol into syngas over ceria-promoted Ni/-Al2O3 catalyst | Shahirah M.N.N., Gimbun J., Ideris A., Khan M.R., Cheng C.K. | 2017 | Renewable Energy |
| 31 | Article | AUTHOR | Metformin - A panacea pharmaceutical agent through convergence revolution initiative | Prabhakaran S., Thirumal D., Gimbun J., Ranganathan B. | 2017 | Journal Of Natural Remedies |
| 32 | Article | CO-AUTHOR | Magnesium sulphate and -alanine enhanced the ability of Kluyveromyces marxianus producing bioethanol using oil palm trunk sap | Mohd Zakria R., Gimbun J., Asras M.F.F., Chua G.K. | 2017 | Biofuels |
| 33 | Article | CO-AUTHOR | Renewable syngas production from thermal cracking of glycerol over praseodymium-promoted Ni/Al2O3 catalyst | Shahirah M.N.N., Ayodele B.V., Gimbun J., Lam S.S., Cheng C.K. | 2017 | Applied Thermal Engineering |
| 34 | Article | AUTHOR | CFD Simulation on the Hydrodynamics in Gas-Liquid Airlift Reactor | Liew S.Y., Gimbun J. | 2017 | Chemical Product And Process Modeling |
| 35 | Conference Paper | CO-AUTHOR | Optimization of ultrasonic-assisted extraction of polyphenolic and flavonoids from labisia pumila | Sandanasamy J., Yusoff M.M., Gimbun J. | 2017 | Materials Science Forum |
| 36 | Conference Paper | CO-AUTHOR | Microwave-irradiation induced fast simultaneous extraction of methoxylated and hydroxylated phenolic compounds from orthosiphon stamineus leaves | Pang S.F., Lau M.Z., Yusoff M.M., Gimbun J. | 2017 | Materials Science Forum |
| 37 | Conference Paper | AUTHOR | Experimental measurement and CFD simulation on the hydrodynamics of an internal-loop airlift reactor | Liew S.Y., Lam Z.Y., Gimbun J. | 2017 | Matec Web Of Conferences |
| 38 | Conference Paper | AUTHOR | The effect of particle size and solvent type on the gallic acid yield obtained from Labisia pumila by ultrasonic extraction | Yeop A., Sandanasam J., Pan S.F., Abdulla S., Yusoff M.M., Gimbun J. | 2017 | Matec Web Of Conferences |
| 39 | Conference Paper | AUTHOR | The effect of auxiliary energy on rhein, kaempferol and astragalin extraction from Cassia alata | Yeong Y.L., Pang S.F., Gimbun J. | 2017 | Matec Web Of Conferences |
| 40 | Book Chapter | AUTHOR | Computational Fluid Dynamics Modelling of the Dairy Drying Processes | J. Gimbun, W.P. Law | 2017 | Handbook Of Drying For Dairy Products |
| 41 |   Article | AUTHOR | Characterization of Ag-promoted Ni/SiO2 catalysts for syngas production via carbon dioxide (CO2) dry reforming of glycerol | Harun N., Gimbun J., Azizan M.T., Abidin S.Z. | 2016 |   Bulletin Of Chemical Reaction Engineering And Catalysis |
| 42 |   Article | AUTHOR | Needleless electrospinning technology - An entrepreneurial perspective | Ramakrishnan R., Gimbun J., Samsuri F., Narayanamurthy V., Gajendran N., Lakshmi Y.S., Stranska D., Ranganathan B. | 2016 |   Indian Journal Of Science And Technology |
| 43 |   Article | AUTHOR | Three-Way Coupling Simulation of a Gas-Liquid Stirred Tank using a Multi-Compartment Population Balance Model | Gimbun J., Liew S.Y., Nagy Z.K., Rielly C.D. | 2016 |   Chemical Product And Process Modeling |
| 44 |   Article | AUTHOR | Microwave reinforced transesterification of rubber seed oil using waste cement clinker catalyst | Hussain A., Ali S., Ahmed I., Gimbun J., Albeirutty M.H., Rehan Z.A., Gimbun J. | 2016 |   Current Nanoscience |
| 45 |   Article | AUTHOR | A study on the kinetics of syngas production from glycerol over alumina-supported samarium-nickel catalyst | Shahirah, MNN; Abdullah, S; Gimbun, J; Ng, YH; Cheng, CK | 2016 |   International Journal Of Hydrogen Energy |
| 46 |   Article | AUTHOR | Samarium Promoted Ni/Al2O3 catalysts for syngas production from glycerol pyrolysis | Shahirah M.N.N., Ayodele B.V., Gimbun J., Cheng C.K. | 2016 |   Bulletin Of Chemical Reaction Engineering And Catalysis |
| 47 |   Article; Proceedings Paper | AUTHOR | Scale-adaptive simulation on the reactive turbulent flow in a partial combustion lance: Assessment of thermal insulators | Law, WP; Gimbun, J | 2016 |   Applied Thermal Engineering |
| 48 | Article | AUTHOR | Influence of nozzle design on the performance of a partial combustion lance: A CFD study | Law W.P., Gimbun J. | 2015 | Chemical Engineering Research And Design |
| 49 | Article | CO-AUTHOR | Successive optimisation of waste cooking oil transesterification in a continuous microwave assisted reactor | Ali M.A.M., Yunus R.M., Cheng C.K., Gimbun J. | 2015 | Rsc Advances |
| 50 | Article | AUTHOR | Analysis of dust distribution in silo during axial filling using computational fluid dynamics: Assessment on dust explosion likelihood | Rani S.I., Aziz B.A., Gimbun J. | 2015 | Process Safety And Environmental Protection |
| 51 | Article | AUTHOR | Evaluation of the unsteady turbulence modelling and thermal insulation on the performance of partial combustion lance | Law W.P., Gimbun J. | 2015 | Chemical Engineering Transactions |
| 52 | Article | AUTHOR | A CFD study of a partial combustion lance | Law W.P., Gimbun J. | 2015 | Journal Of Engineering Science And Technology |
| 53 | Article | CO-AUTHOR | Optimization of waste cooking oil transesterification in a continuous microwave assisted reactor | Ali M.A.M., Cheng C.K., Yunus R.M., Gimbun J. | 2015 | Chemical Engineering Transactions |
| 54 | Article | CO-AUTHOR | Thermal degradation kinetics of nicotinic acid, pantothenic acid and catechin derived from Averrhoa bilimbi fruits | Muhamad N., Yusoff M.M., Gimbun J. | 2015 | Rsc Advances |
| 55 | Article | CO-AUTHOR | CO<inf>2</inf> reforming of glycerol over La-Ni/Al<inf>2</inf>O<inf>3</inf> catalyst: A longevity evaluative study | Siew K.W., Lee H.C., Khan M.R., Gimbun J., Cheng C.K. | 2015 | Journal Of Energy Chemistry |
| 56 | Conference Paper | CO-AUTHOR | Economical Biodiesel Fuel Synthesis from Castor Oil Using Mussel Shell-Base Catalyst (MS-BC) | Nurdin S., Rosnan N.A., Ghazali N.S., Gimbun J., Nour A.H., Haron S.F. | 2015 | Energy Procedia |
| 57 | Article | CO-AUTHOR | Energy dissipation reduction using similarly-charged polymer-surfactant complex | Abdulbari H.A., Faraj E., Gimbun J., Mahmood W.K. | 2015 | Advances And Applications In Fluid Mechanics |
| 58 | Article | CO-AUTHOR | Catalytic performance of cement clinker supported nickel catalyst in glycerol dry reforming | Lee H.C., Siew K.W., Khan M.R., Chin S.Y., Gimbun J., Cheng C.K. | 2014 | Journal Of Energy Chemistry |
| 59 | Article | CO-AUTHOR | Extraction and microencapsulation of polyphenols from Orthosiphon stamineus leaves | Pang S.F., Yusoff M.M., Gimbun J. | 2014 | Journal Of Mechanical Engineering And Sciences |
| 60 | Article | CO-AUTHOR | Assessment of phenolic compounds stability and retention during spray drying of Orthosiphon stamineus extracts | Pang S.F., Yusoff M.M., Gimbun J. | 2014 | Food Hydrocolloids |
* Records till 31 July 2020
| No | Project | Customer | Start Date | End Date | Project Amount (RM) |
| --- | --- | --- | --- | --- | --- |
| 1 | Development Of Rodenticide (Bromadiolone And Chlophacinone) Analysis And Implementation Atfelda Agricultural Services Sdn Bhd | FELDA AGRICULTURAL SERVICES SDN BHD | 10-OCT-2017 | 09-NOV-2017 | 5,787.60 |
| 2 | Advanced Cfd Training On Combstion Modelling | OPEN TRAINING | 01-AUG-2017 | 02-AUG-2017 | 6,000.00 |
| No | Type | Name | Registration No | File Date |
| --- | --- | --- | --- | --- |
| 1 | Patent | A Method For Preserving Polyphenol Compund Extracted From Fresh Plants Materials | 2018400005 | 07-MAR-2018 |
| No | Description |
| --- | --- |
| 1 | Kacip Fatimah-Based Supplement For Anti-Depressant In Post-Partum And Post-Menopausal As Well As A Cognitive Enhancer |
| 2 | Misai Kucing Extract |
| 3 | Misai Kucing-Based Supplement For Anti-Cancer, Diuretic And Anti-Diabetic |
* Data sehingga 11 April 2019