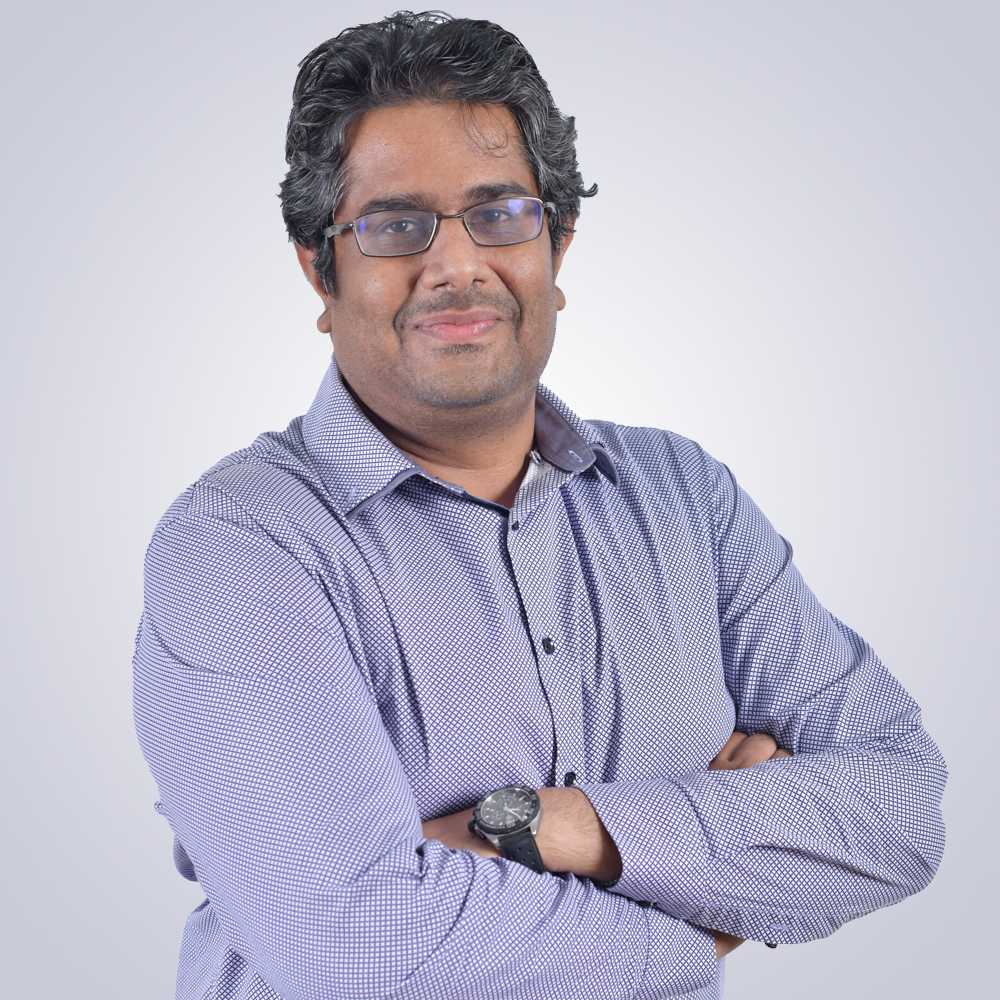 Profesor Ir. Ts. Dr. Kumaran A/L Kadirgama
kumaran@ump.edu.my
094315408
Phd(2011)
Universiti Tenaga Nasional (UNITEN)
Universiti Tenaga Nasional (UNITEN)
Ijazah Sarjana Muda Mekanikal(2005)
Universiti Tenaga Nasional (UNITEN)
Ijazah Sarjana Muda Mekanikal(2003)
Universiti Tenaga Nasional (UNITEN)
Biography
---
Prof. Ts. Ir. Dr. Kumaran Kadirgamais a Professor and research fellow of Advanced Nano Coolant Lubricant Laboratory (ANCoL), UMP. He is a Profesional Engineer registered under the Board of Engineers Malaysia (BEM); and a Charted Engineer (UK) under the Institution of Mechanical Engineers (IMechE). He also a Professional Technologist (P.Tech) of Malaysia Board of Technologists (MBOT). Up to date, he has 18 years' of experience in teaching and research activities in Universiti Malaysia Pahang (UMP) and University Tenaga Nasional (UNITEN).
2. His expertise is on nanofluid and advanced material. He has also been appointed as Associated Researcher in Nelson Mandela University, South Africa, and appointed as Visiting Professor in Rajarshi Shahu University, India. He also panels for the Malaysian Qualifications Agency (MQA) from 2015 - current. In research, he was involved in the supervision of postgraduate students in Master and PhD levels. So far, he has already graduated numerous students in PhD and Master level.
3. He also published and presented various technical papers and journals at an international and national level. He has an h-index of 31 with a citation of 4312. He has received grants totalling RM 6.02 million from various agencies and institutions. He has won a Gold medal in International Invention, Innovation & Technology Exhibition (ITEX), Seoul International Invention Fair, Korea (SIFF), and British Invention Show (BIS). He also included in top scientist 2% in the world for 2021 and 2022 in individual and career long achievement.
| No | Code | Subject |
| --- | --- | --- |
| 1 | BMF4723 | DESIGN FOR MANUFACTURE & ASSEMBLY |
| 2 | BMM4021 | ENGINEER AND SOCIETY |
| 3 | BMI4733 | QUALITY ENGINEERING |
| 4 | BMM4853 | AIR CONDITIONING AND REFRIGERATION |
| 5 | MME6213 | INDUSTRIAL MANAGEMENT SYSTEM |
| 6 | BVA3056 | QUALITY MANAGEMENT |
| 7 | BMM1011 | INTRODUCTION TO ENGINEERING |
| 8 | BHA1801 | EXPERIMENTAL LABORATORY |
| 9 | BMM4833 | QUALITY ENGINEERING |
| 10 | MME6133 | NUMERICAL METHOD |
| 11 | KUK3022 | ENGINEERS IN SOCIETY |
| 12 | BHA2612 | COMPUTER AIDED DESIGN |
| 13 | BHA4903 | TEAM ORIENTED PROJECT STUDY |
| 14 | DMM3011 | OCCUPATIONAL SAFETY & HEALTH |
| 15 | BMM3611 | MANUFACTURING PROCESSES LAB |
| 16 | BMM4704 | INTEGRATED DESIGN PROJECT |
| 17 | BMM2543 | FLUIDS MECHANICS 2 |
| 18 | BMM1511 | ENGINEERING MECHANICS LAB 1 |
| 19 | BHA3223 | INTERNAL COMBUSTION ENGINE |
| 20 | MKM1243 | PRECISION MACHINING |
| 21 | BHA4704 | TEAM ORIENTED PROJECT STUDY |
| 22 | BMM2683 | APPLIED THERMODYNAMICS |
| 23 | BMM2673 | THERMODYNAMICS |
| 24 | BMF4753 | QUALITY ENGINEERING |
| 25 | BMM4623 | MECHANICAL SYSTEM DESIGN |
| 26 | BMM3532 | MEASUREMENT & INSTRUMENTATION |
| 27 | BHA4224 | AUTOMOTIVE ENGINEERING |
| 28 | BMM3643 | MANUFACTURING PROCESSES |
| 29 | BMM4032 | ENGINEERS AND SOCIETY |
| 30 | BMM3023 | ENGINEERING MANAGEMENT & SAFETY |
| 31 | BMM2513 | THERMODYNAMICS |
| No. | Title | Role | Start Date | End date | Agency | Grant Amount(RM) | Status |
| --- | --- | --- | --- | --- | --- | --- | --- |
| 1 | Investigate Of Graphene/Mwcnt Hybrid Nano-CoolantsOn Wear And Surface Integrity During EnvironmentalfriendlyMachining | Leader | 15-NOV-2022 | 14-NOV-2024 | PENYELIDIKAN UNGGUL | 49,890.00 | On-Going |
| 2 | Synthesis And Characterization Of A Novel Nano Enhanced Phase Change Material Meant To Be Integrated With Photovoltaic-Thermal (Pvt) | Leader | 01-SEP-2022 | 31-AUG-2025 | PGRS | 1,375.00 | On-Going |
| 3 | Mxene Nanomaterial As An Alternative Material For Automotive Cooling System | Leader | 13-OCT-2021 | 12-OCT-2023 | PENERBITAN ANTARABANGSA | 40,000.00 | On-Going |
| 4 | Design Optimization With Computational Analysis Of Rhombic Drive Beta-Configuration Stirling Engine | Leader | 15-OCT-2019 | 14-OCT-2022 | PGRS | 3,500.00 | - |
| 5 | Formulation Of A Titanium Carbide/Mxene (Ti3c2tx) Nanomaterial Optical Property Model For Potential Heat Transfer Liquid | Leader | 01-SEP-2019 | 31-MAY-2022 | FRGS | 101,838.00 | - |
| 6 | Optimization And Performance Evaluation Of Mxene Nanomaterial | Leader | 01-SEP-2019 | 30-NOV-2022 | FLAGSHIP | 74,500.00 | - |
| 7 | Formulation Of Polylactic Acid (Pla)-Wood Hybrid Biomaterial Mechanical Property Prepared Through 3d Printing Technique | Leader | 01-SEP-2019 | 30-NOV-2022 | FLAGSHIP | 62,000.00 | - |
| 8 | Investigation Of Physio-Thermal Properties Of Hybrid Graphene Oxide And Nanofibrillated Cellulose For Automotive Application. | Leader | 01-APR-2019 | 30-JUN-2021 | GERAN DALAM | 38,500.00 | - |
| 9 | Role Of Acrylonitrile-Butadiene-Styrene (Abs) To Develop 3d Printed Components Using Additive Manufacturing Technique | Leader | 05-MAR-2019 | 04-JUN-2021 | GERAN DALAM | 25,000.00 | - |
| 10 | Investigation Of Effects Of 3d Printing Parameters On Mechanical Properties Of Abs Material Prepared Using Fdm | Leader | 05-MAR-2019 | 04-JUN-2021 | PADANAN INDUSTRI | 15,000.00 | - |
| 11 | Investigation Of Effects Of 3d Printing Parameters On Mechanical Properties Of Abs Material Prepared Using Fdm | Leader | 05-MAR-2019 | 04-JUN-2021 | INDUSTRI | 15,000.00 | - |
| 12 | Ethylene Glycol/Nanocellulose Based Nanofluid Coolant For Machining Nickel Alloy | Leader | 25-AUG-2018 | 24-NOV-2020 | GERAN DALAM | 31,131.00 | - |
| 13 | Fundamental Study Of Hybrid Graphene Oxide And Nanofibrillated Cellulose For Aircraft Wings Application | Leader | 15-AUG-2017 | 14-AUG-2019 | FRGS | 83,200.00 | - |
| 14 | Nano-Structured Diamond And Silica Coatings On Co-Cr-Mr Substrate For Biomedical Applications | Leader | 19-JUN-2016 | 19-FEB-2018 | ANTARABANGSA | 9,984.00 | - |
| 15 | Direct Metal Laser Sintering Technology For The Manufacture Of Fully Porous Functionally Graded Titanium Alloy Femoral Stems (Fabrication And Designing Of Fully Porous Functionally Graded Titanium Alloy Femoral Stems) | Leader | 01-JUN-2016 | 01-JUN-2019 | ANTARABANGSA | 66,276.00 | - |
| 16 | Investigate The Effect Of Nanolubricant For Enhancing The Vehicle Air-Conditioning Efficiency | Leader | 05-APR-2016 | 04-APR-2018 | GERAN DALAM | 25,500.00 | - |
| 17 | Nano-Structured Diamond & Silica Coatings On Co-Cr-Mo Substrate For Biomedical Applications | Leader | 31-MAR-2016 | 31-MAR-2016 | GIFT/DONATION/SPONSOR | 40,190.00 | - |
| 18 | Thermal Management Of Vehicle Radiator By Nanofluids | Leader | 01-JAN-2016 | 31-DEC-2018 | RACE | 44,000.00 | - |
| 19 | Tribological Behaviour Of Waste Cooing Oil As Biolubricant For Internal Combustion Engine | Leader | 15-MAR-2015 | 14-MAR-2017 | PGRS | 3,000.00 | - |
| 20 | Influence Of Waste Cooking Oil As Bio-Nanlubricant On Wear And Friction Behaviour Of Aluminium Against Stainless Steel | Leader | 15-MAR-2015 | 14-MAR-2017 | PGRS | 3,000.00 | - |
| 21 | Hybrid Nanoparticles With Ethylene Glycol For Car Radiator Application | Leader | 25-NOV-2014 | 24-NOV-2016 | GERAN DALAM | 35,200.00 | Finished |
| 22 | Synthesis And Characterizing Of Green Machining Using Tio2 Based Nanocoolant | Leader | 25-FEB-2014 | 24-FEB-2016 | PGRS | 1,800.00 | - |
| 23 | Development And Characteristics Of Waste Cooking Oil As Bio -Lubricant And Nano-Lubricant At High Temperature | Leader | 01-DEC-2013 | 30-NOV-2015 | FRGS | 59,000.00 | - |
| 24 | Characteristiction Of Engine Oil With Nano Particle As An Additives | Leader | 25-NOV-2013 | 24-NOV-2015 | GERAN DALAM | 34,500.00 | Finished |
| 25 | Water Based Nano Coolants | Leader | 15-OCT-2013 | 14-OCT-2014 | PUSAT KECEMERLANGAN MTUN (COE MTUN) | 37,000.00 | Finished |
| 26 | Development Of Tool-Life Performance Model For Mold And Die Using Near Dry Machining Technique | Leader | 01-SEP-2011 | 01-SEP-2013 | GERAN DALAM | 36,600.00 | - |
| 27 | Surface Impregnation/Modification Using Nanomaterials For Enhanced Mechanical Properties Of Metal Surfaces | Leader | 15-JUL-2011 | 15-JUL-2012 | GERAN DALAM | 37,500.00 | Finished |
| 28 | An Investigation Of Wind Power Potential At Kuala Pahang, Pekan. | Leader | 01-NOV-2009 | 30-NOV-2011 | GERAN DALAM | 40,000.00 | - |
| 29 | Design And Develop Blow Mould Using Machining Optimization Parameters | Leader | 01-AUG-2009 | 31-JUL-2010 | TANPA PERUNTUKAN | 0.00 | Finished |
| 30 | Optimization Of Grinding Wheel Parameters With Intelligent Techniques | Leader | 05-JAN-2009 | 30-NOV-2011 | GERAN DALAM | 40,000.00 | - |
| 31 | Statistical And Artificial Intelligent Study To Determine The Effect Of Milling Parameters On Cutting Force, Stress And Surface Roughness When Milling Aluminium And Nickel Superalloy | Leader | 01-AUG-2008 | 31-JUL-2009 | GERAN DALAM | 15,400.00 | - |
| 32 | Development Of A Design Evaluation System Software For Home Appliances Remanufacturing | Leader | 01-JUL-2008 | 31-DEC-2009 | SCIENCEFUND | 84,000.00 | - |
| 33 | Decision-Model Development For Vehicle Health Monitoring Using Machine-Learning Approach | Member | 01-DEC-2022 | 30-NOV-2024 | PENYELIDIKAN UNGGUL | 50,000.00 | On-Going |
| 34 | Evaluation Of Mechanical Properties And CorrosionBehavior Of Wire Arc Additively Manufactured Ss316lFor Exhaust Housing | Member | 15-NOV-2022 | 14-NOV-2024 | PENYELIDIKAN UNGGUL | 49,475.00 | On-Going |
| 35 | An Optimized-Decision-Model Exploiting Deep-Learning Enabled Vulnerable Point Classification For Vehicular Health Monitoring System | Member | 01-SEP-2022 | 31-AUG-2024 | FRGS | 95,138.00 | On-Going |
| 36 | Investigation Of Mxene/Gr As Additive Lubricant For Piston RingCylinder Liner Material | Member | 23-MAY-2022 | 22-MAY-2024 | PENERBITAN ANTARABANGSA | 38,500.00 | On-Going |
| 37 | Solar Collector With Cotton-Based Cnc And Advanced Graphene Hybrid Nano Fluids | Member | 25-APR-2022 | 24-APR-2024 | PENERBITAN ANTARABANGSA | 40,000.00 | On-Going |
| 38 | Enhancing Thermal Energy Storage Of Pvt System Using Modified Carbon-Based Nano Phase Change Materials For Rural Applications | Member | 01-APR-2022 | 31-MAR-2024 | PENERBITAN ANTARABANGSA | 40,000.00 | On-Going |
| 39 | Nanoenhanced Phase Change Materials For Smart Energy Storage And Management In Buildings | Member | 20-DEC-2021 | 19-DEC-2023 | PENERBITAN ANTARABANGSA | 40,000.00 | On-Going |
| 40 | Development Of Semi Precision Low-Cost 3d Printer | Member | 01-DEC-2021 | 30-NOV-2023 | PEMBANGUNAN PRODUK | 39,000.00 | On-Going |
| 41 | Elucidation Of Indispensable Thermophysical And Rheological Behavior Of Mxene-Polyaniline-Palm Olein Fusions For Potential Advanced Heat Transfer Fluid | Member | 07-SEP-2021 | 06-SEP-2023 | FRGS | 128,285.00 | On-Going |
| 42 | Thermophysical Properties Investigation Of Nano-Enhanced Phase Change Materials (Nepcms) | Member | 01-SEP-2021 | 31-AUG-2023 | GERAN DALAM | 36,000.00 | On-Going |
| 43 | Intrinsic Behavior Of Coconut Wood-Pla Composite Filament For Additive Manufacturing | Member | 01-SEP-2021 | 31-AUG-2024 | ANTARABANGSA | 13,939.71 | On-Going |
| 44 | Lack Of Fusion And Crack Growth Behaviour Assessment For Additively Manufactured Ti-6al-4v Alloy Using Selective Laser Melting | Member | 15-DEC-2019 | 14-MAR-2022 | GERAN DALAM | 35,000.00 | - |
| 45 | Development Of A Minimum Quantity Lubrication System For Sustainable End Milling Machining Process | Member | 01-DEC-2019 | 31-AUG-2022 | PRGS | 119,268.00 | - |
| 46 | Investigate The Effect Of Nanoparticle As Lubricant Additive On The Tribological Mechanism. | Member | 01-NOV-2019 | 31-JAN-2022 | GERAN DALAM | 32,500.00 | - |
| 47 | Formulate The Nozzle Spray Modelling Of The Supercritical Carbon Dioxide Flow Pattern In Machining Nickel-Based Superalloy | Member | 01-SEP-2019 | 31-MAY-2022 | FRGS | 80,200.00 | - |
| 48 | Thermophysical Analysis Of Nano Materials With High Heat Transfer | Member | 01-SEP-2019 | 30-NOV-2022 | FLAGSHIP | 95,800.00 | - |
| 49 | Characterizing Of Mxene For Solar Application | Member | 01-SEP-2019 | 30-NOV-2022 | FLAGSHIP | 73,500.00 | - |
| 50 | Lack Of Fusion And Crack Growth Behaviour Assessment For Additively Manufactured Glass-Filled Polyamide 12 Using Selective Laser Sintering | Member | 25-JUN-2019 | 24-SEP-2021 | GERAN DALAM | 35,000.00 | - |
| 51 | Elucidate The Wear Rate Reduction Mechanism Of Minimum Quantity Lubrication To Enhance Machinability Using Hybrid Nanocoolant | Member | 25-JUN-2019 | 24-SEP-2021 | GERAN DALAM | 39,500.00 | - |
| 52 | Improvement Of Keropok Production Volume In Small Medium Enterprise Through Design And Fabrication Of Higher Capacity Keropok Kneading Machine (Uic190816) | Member | 20-MAY-2019 | 17-NOV-2021 | PADANAN MTUN INDUSTRI | 50,000.00 | - |
| 53 | Improvement Of Keropok Production Volume In Small Medium Enterprise Through Design And Fabrication Of Higher Capacity Keropok Kneading Machine (Rdu192808) | Member | 20-MAY-2019 | 17-NOV-2021 | INDUSTRI | 50,000.00 | - |
| 54 | Fused Deposition Modelling To Formulate Pla-Metal Structure For 3d-Printed Applications | Member | 05-MAR-2019 | 04-JUN-2021 | GERAN DALAM | 25,000.00 | - |
| 55 | Development Of Pla-3d Printed Structure Using Fused Deposition Method | Member | 05-MAR-2019 | 04-JUN-2021 | GERAN DALAM | 25,000.00 | - |
| 56 | Investigation Of Mechanical Properties Of Hybrid Poly Lactic Acid-Metal 3d Printed Parts Using Fused Deposition Modelling | Member | 05-MAR-2019 | 04-JUN-2021 | PADANAN INDUSTRI | 15,000.00 | - |
| 57 | Optimizing 3d Printing Parameters For Improved Mechanical Behaviour Of Pla Using Fused Deposition Modeling (Fdm) | Member | 05-MAR-2019 | 04-JUN-2021 | PADANAN INDUSTRI | 15,000.00 | - |
| 58 | Wear Rate Reduction Mechanism Of A Nano Tungsten Carbide Coated Liquefied Petroleum Gas (Lpg) Engine Valve | Member | 01-JAN-2019 | 30-SEP-2021 | FRGS | 71,000.00 | - |
| 59 | Elucidation Of Graphene Nano-Particles Thermo-Physical Properties As Anti-Wear Additives In Engine Oil For Resistance Of Boundary Film Lubrication | Member | 01-JAN-2019 | 30-SEP-2021 | FRGS | 87,750.00 | - |
| 60 | Experimental Studies On The Effect Of Current Density And Magnetic Field On The Growth Of Ni Nanowires During Electrodeposition | Member | 30-DEC-2018 | 29-MAR-2021 | GERAN DALAM | 36,500.00 | - |
| 61 | Characterization And Experimental Investigation Of Tio2 Nanocoating For Automotive Painting | Member | 25-OCT-2018 | 24-JAN-2021 | GERAN DALAM | 38,000.00 | - |
| 62 | Development Of A Task-Oriented, Auction-Based Task Allocation Framework For A Heterogeneous Multirobot System | Member | 25-AUG-2018 | 24-NOV-2020 | GERAN DALAM | 31,500.00 | - |
| 63 | Modes And Progression Of Tool Deterioration And Their Effects On Cutting Force During End Milling Of Hastelloy 242 Nickel Based Superalloy With Nano Coolant Approach | Member | 25-APR-2018 | 24-JUL-2020 | GERAN DALAM | 30,500.00 | - |
| 64 | Investigation Of The Influence Of Synthesis Parameter On Template Based Electrodeposited Cobalt Nanowires | Member | 05-APR-2018 | 04-JUL-2020 | GERAN DALAM | 38,500.00 | - |
| 65 | Ionization Probe Development For Gaseous Fuel Engine Combustion Analysis | Member | 01-APR-2018 | 30-JUN-2020 | GERAN DALAM | 36,000.00 | - |
| 66 | Sustainable Green Machining By Nanoparticles Suspended Coolant | Member | 28-JUN-2017 | 27-JUN-2019 | FLAGSHIP | 98,043.00 | - |
| 67 | Development Of Graphene-Cnt Coolant To Enhance End Milling Machining Performance | Member | 20-JUN-2017 | 19-JUN-2019 | GERAN DALAM | 27,100.00 | - |
| 68 | Development Of Nickel-Based Nanopol Ymer For Automotive Dashboard | Member | 20-JUN-2017 | 19-JUN-2019 | GERAN DALAM | 24,500.00 | - |
| 69 | Synthesis Of Silver Nanowires Hybrid Thin Film For Advanced Automotive Application | Member | 20-JUN-2017 | 19-JUN-2019 | GERAN DALAM | 26,000.00 | - |
| 70 | Synthesis And Characterization Of One Dimensional Modified Cobalt Nanowires For Nanoscale Mechanical Devices | Member | 01-AUG-2016 | 31-JUL-2018 | FRGS | 68,800.00 | - |
| 71 | Fundamental Study Of Nano-Diesel Blend Fuels In Ultra-Low Emission Homogeneous Charge Compression Ignition Engine | Member | 01-AUG-2016 | 31-JUL-2018 | FRGS | 98,200.00 | - |
| 72 | Investigation Of The Influence Of Synthesis Parameter On Template Based Electrodeposited Ni Nanowires | Member | 25-MAY-2016 | 24-MAY-2018 | GERAN DALAM | 39,500.00 | - |
| 73 | Investigation Of Dispersion, Stability, And Tribological Performance Of Oil-Based Graphene And Copper Nanofluids | Member | 25-MAY-2016 | 24-MAY-2018 | GERAN DALAM | 37,500.00 | - |
| 74 | Characteristics Study Of Co-30cr-7mo Dental Alloys Using Direct Metal Laser Melting Process | Member | 25-MAY-2016 | 24-MAY-2018 | GERAN DALAM | 38,500.00 | Finished |
| 75 | Smart Cellulose Fibers Coated With Carbon Nanotube Networks For Automotive Cooling System | Member | 25-MAY-2016 | 24-MAY-2018 | GERAN DALAM | 32,500.00 | - |
| 76 | Environmental Friendly Sustainable Biofuel For Diesel Engine Using Algae | Member | 10-MAY-2016 | 09-MAY-2018 | GERAN DALAM | 21,500.00 | Finished |
| 77 | An Experimental Analysis Of A Hcci Diesel Fuel Engine Using Copper Nanoparticles Blended Diesel Fuel | Member | 05-MAY-2016 | 04-MAY-2018 | GERAN DALAM | 28,000.00 | Finished |
| 78 | Investigation Of The Rigidity Of Cocrmo Cellular Structure Fabricated By Selective Laser Melting Process For Potential Dental Applications | Member | 01-JAN-2016 | 31-DEC-2018 | RACE | 49,985.00 | - |
| 79 | Biodiesel-Diesel (Up To 45%) Fuel Characteristics On Homogeneous Charge Compression Ignition Engine | Member | 15-DEC-2015 | 14-DEC-2017 | GERAN DALAM | 39,790.00 | - |
| 80 | Hydroxyapatite Coating On Laser Melted-Cocrmo Compact Using Various Thicknesses Of Oxide Interlayers For Biomedical Applications | Member | 01-DEC-2015 | 30-NOV-2017 | RAGS | 61,950.00 | - |
| 81 | Tribological Behavior Of Journal Bearing Material Under Nano Carbon Tube | Member | 01-OCT-2015 | 30-SEP-2017 | GERAN DALAM | 39,816.00 | - |
| 82 | Progressive Wear In Sustainable Machining Of Cobalt Chromium Alloy Using Cutting Inserts Of Different Coating Materials | Member | 25-JUN-2015 | 24-JUN-2017 | GERAN DALAM | 35,200.00 | - |
| 83 | An Auto-Ignition Study In Engine Using Hcci And Carbon Nanotubes | Member | 25-JUN-2015 | 24-JUN-2017 | GERAN DALAM | 24,750.00 | - |
| 84 | Valve Wear Analysis With Nano Coating For Compressed Natural Gas (Cng) Engine | Member | 15-NOV-2014 | 14-NOV-2016 | GERAN DALAM | 21,750.00 | Finished |
| 85 | Impact Biodiesel Fuel Characteristics On Ultra-Low Emission Homogeneous Charge Compression Ignition Engine | Member | 15-NOV-2014 | 14-NOV-2016 | GERAN DALAM | 38,575.00 | - |
| 86 | Fundamental Study Of Thermo-Physical Properties And Forced Convection Heat Transfer Rate Bioglycol Based Nanofluids Coolant | Member | 25-OCT-2014 | 24-OCT-2016 | GERAN DALAM | 36,270.00 | Finished |
| 87 | Enhanced Driver Seating Comfort In A Small Size Car Through Digital Human Modelling(Dhm)And Pressure Mapping Method | Member | 01-JUL-2014 | 30-JUN-2017 | FRGS | 115,100.00 | Finished |
| 88 | Multiaxial Modelling Of Lightweight Sandwich Structures Based On Corrugated-Cores For Aerospace Application | Member | 01-JUL-2014 | 30-JUN-2017 | FRGS | 124,000.00 | Finished |
| 89 | Engine Valve Seat Wear Study On Compressed Natural Gas (Cng)By Using Nano Powder | Member | 01-JUL-2014 | 30-JUN-2017 | FRGS | 125,000.00 | Finished |
| 90 | Development Of A Smart Cutting Tool For Sustainable Machining Of Nickel Based Alloys For The Application To Turbocharger Manufacturing | Member | 05-JUN-2014 | 04-JUN-2016 | GERAN DALAM | 35,180.00 | Finished |
| 91 | Development An Olympic Scale Of Recurve Bow And Archery For Local Junior Athletes Under 15 And 17 (U-15 And U-17) | Member | 02-JUN-2014 | 01-JUN-2016 | SCIENCEFUND | 92,050.00 | Finished |
| 92 | Development Of Titanium Manganese Alloys Foams For Biomedical Applications By Metal Injection Molding | Member | 25-APR-2014 | 24-APR-2016 | GERAN DALAM | 40,000.00 | Finished |
| 93 | A Low Cost Force Dynamometer For Precison Machining Of Automotive Cylinder Head | Member | 25-DEC-2013 | 24-DEC-2015 | GERAN DALAM | 30,000.00 | Finished |
| 94 | Development Of Multiaxial Fatigue Modelling For Lightweight Automotive Suspension Components | Member | 25-DEC-2013 | 24-DEC-2015 | GERAN DALAM | 34,000.00 | - |
| 95 | Fundamental Study Of Jatropha Biodiesel Oil On Ultra-Low Emission Homogeneous Charge Compression Ignition Engine Combustion | Member | 01-DEC-2013 | 30-NOV-2016 | FRGS | 115,200.00 | - |
| 96 | The Effect Of Steam Injection On Power And Emission Of Hybrid Air-Diesel Engine Using Steam Injector | Member | 01-DEC-2013 | 30-NOV-2016 | FRGS | 120,500.00 | - |
| 97 | Concentrating Solar Thermal-Powered Biomass Syngas Modelling Process For Green Electricity Conversion | Member | 01-DEC-2013 | 30-NOV-2016 | FRGS | 100,000.00 | - |
| 98 | Multiaxial Fatigue Modelling For Safety-Critical Lightweight Automotive Suspension Components | Member | 01-DEC-2013 | 30-NOV-2016 | FRGS | 122,000.00 | - |
| 99 | Modelling Of Vehicle Seat For Human Comfort Of A Small Size Passenger Car (K-Car) | Member | 01-DEC-2013 | 30-NOV-2015 | GERAN DALAM | 27,400.00 | Finished |
| 100 | Development And Analysis Of Bow And Arrow For Malaysian Athlete | Member | 01-DEC-2013 | 30-NOV-2015 | GERAN DALAM | 21,000.00 | Finished |
| 101 | Three-Dimensional (3d) Modelling Of Human Airway Using Fluid Structure Interaction (Fsi) Technique | Member | 01-DEC-2013 | 30-NOV-2015 | GERAN DALAM | 16,100.00 | Finished |
| 102 | Fundamental Study Of Eg Based Nanofluids For Application In Automotive Cooling System | Member | 25-NOV-2013 | 24-NOV-2015 | GERAN DALAM | 33,000.00 | Finished |
| 103 | Nano Particle'S Heat Transfer Characteristics In Refrigeration And Automotive Airi Conditioning Systems For Reductiion Ofo Energy Consumption | Member | 15-DEC-2012 | 14-DEC-2014 | RAGS | 55,000.00 | - |
| 104 | Potential Of Integrated Chatter Avoidance And Minimum Quantity Lubrication Condition In Machining Process | Member | 01-MAY-2012 | 30-APR-2014 | FRGS | 56,000.00 | - |
| 105 | Nanoparticle Based Coolants In Grinding Processes For Automotive Industry Cooling Applications | Member | 01-APR-2012 | 31-MAR-2014 | GERAN DALAM | 35,500.00 | - |
| 106 | Development Of High Performance Sports Shoes And Knee Pad For Malaysian Athletes | Member | 01-DEC-2011 | 31-MAY-2014 | KPT GERAN SUKAN | 300,000.00 | Finished |
| 107 | Development Of New Lubricant Dispersed With Nanoparticles | Member | 01-AUG-2011 | 01-NOV-2012 | GERAN DALAM | 35,000.00 | - |
| 108 | Minimum Quality Lubication Technique For End Mill To Enhance Machinability Of Aluminum Alloys | Member | 08-JUL-2011 | 08-JAN-2014 | FRGS | 200,000.00 | - |
| 109 | Characterization Of Heat Transfer Process For Hydrogen Fueled Internal Combustion Engine | Member | 15-NOV-2010 | 14-NOV-2011 | GERAN DALAM | 24,340.00 | Finished |
| 110 | Machining Of Nickel Superalloly Material Using Nanofluid As Coolant For Light Alloy Piston | Member | 15-OCT-2010 | 14-OCT-2011 | GERAN DALAM | 39,000.00 | - |
| 111 | Hybrid Optimization Model To Enhanced The Machinability Of Titanium Alloys | Member | 15-SEP-2010 | 14-SEP-2012 | FRGS | 49,880.00 | - |
| 112 | Modelling Of Thermal Comfort And Productivity In Automative Industries | Member | 01-AUG-2010 | 31-OCT-2012 | GERAN DALAM | 37,500.00 | - |
| 113 | Development Of Online Machining Condition System: An Acoustic Emision Approached | Member | 01-MAY-2010 | 30-NOV-2011 | GERAN DALAM | 40,000.00 | - |
| 114 | Investigating Of Micromachining Of Silicon Using Micro Edm | Member | 01-DEC-2009 | 30-NOV-2011 | GERAN DALAM | 40,000.00 | - |
| 115 | Development Of Revetec Engine Cam For Internal Combustion Engines | Member | 01-NOV-2009 | 31-OCT-2010 | GERAN DALAM | 25,000.00 | - |
| 116 | Heat Transfer Augmentation With Aluminium Oxide Nanofluid In A Plain Tube And With Inserts | Member | 01-OCT-2009 | 30-SEP-2010 | GERAN DALAM | 40,000.00 | - |
| 117 | Accuracy Of Stainless Steel Thick Plates In Peripheral Machining | Member | 01-OCT-2009 | 30-SEP-2010 | GERAN DALAM | 40,000.00 | - |
| 118 | A Novel And Flexible Solar Car Kit For Educational Use | Member | 01-AUG-2009 | 31-JUL-2010 | TANPA PERUNTUKAN | 0.00 | - |
| 119 | Investigation Of Refrigerator Performance Using Experimental And Simulation Method | Member | 01-AUG-2009 | 31-JUL-2010 | TANPA PERUNTUKAN | 0.00 | - |
| 120 | Development Of Micropump In Fuel Cell Application Using Micro Electro-Mechanical System (Mems) Machining Method | Member | 01-MAY-2009 | 30-APR-2011 | GERAN DALAM | 37,500.00 | - |
| 121 | Development Of Micro-Edm With Microactuator Feed Control System | Member | 01-MAY-2009 | 30-APR-2011 | GERAN DALAM | 40,000.00 | - |
| 122 | Design And Development Of A Lift System For Diasable People | Member | 01-MAY-2009 | 31-OCT-2010 | GERAN DALAM | 32,000.00 | - |
| 123 | Experimental Investigation Of Machining Performance Of Near Dry And Powder Mixed Dielectric (Pmd) Electrical Discharge Machining (Edm) On Titanium Alloys | Member | 01-MAY-2009 | 30-NOV-2010 | GERAN DALAM | 40,000.00 | - |
| No | Project | Customer | Start Date | End Date | Project Amount (RM) |
| --- | --- | --- | --- | --- | --- |
| 1 | Expert Consultation For The Linear Wear | FKM | 28-DEC-2016 | 28-DEC-2016 | 318.00 |
| No | Type | Name | Registration No | File Date |
| --- | --- | --- | --- | --- |
| 1 | Patent | Nanocomposite Phase Change Material For Thermal Energy Storage Applications And A Method Of Producing Thereo | 2021007333 | 08-DEC-2021 |
| 2 | Patent | A Thermal Transport Fluid | 2021002916 | 26-MAY-2021 |
* Data sehingga 11 April 2019