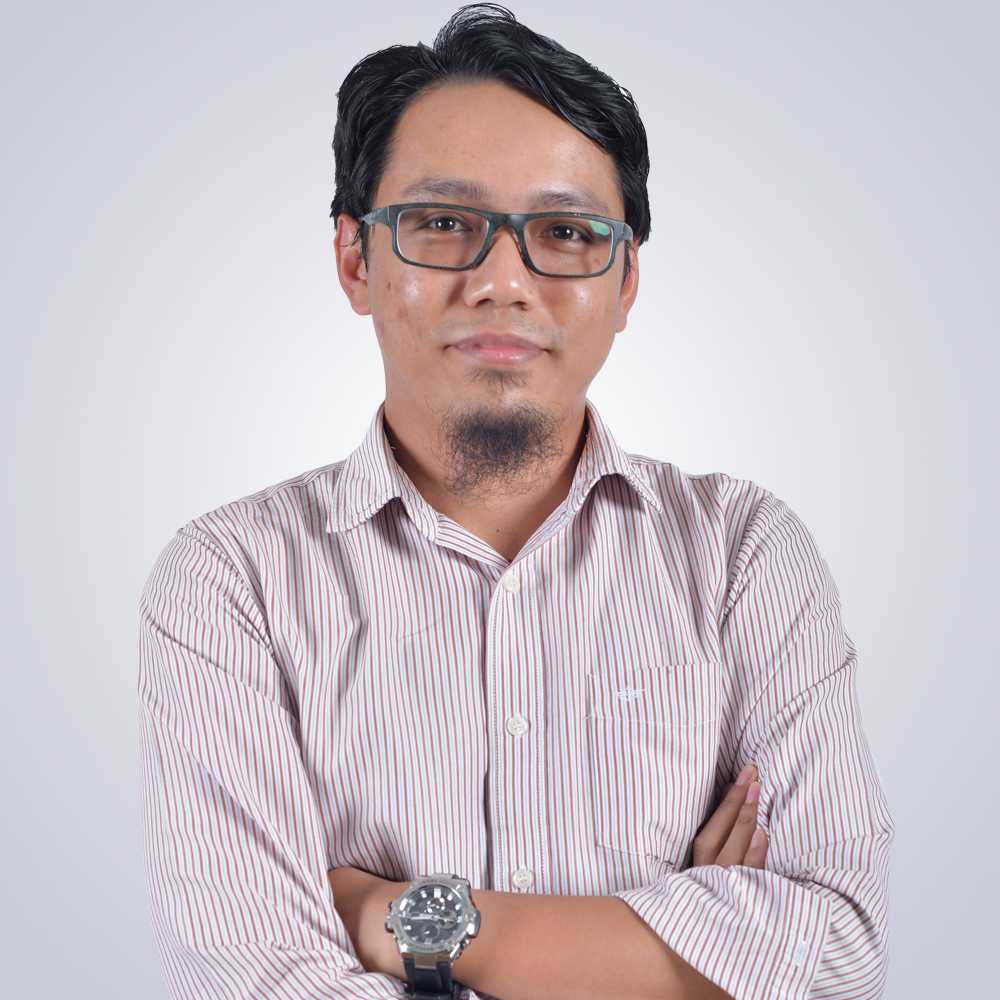 Dr. Muhammad Aizzat Bin Zakaria
maizzat@ump.edu.my
094245820
Scopus
Doctor Of Philosophy (Autonomous Vehicle Engineering)(2015)
Universiti Teknologi Malaysia (Kuala Lumpur)
Bachelor Of Engineering (Electrical-Mechatronics) With First Class Honor(2010)
Universiti Teknologi Malaysia (Skudai)
Biography
---
Dr. Muhammad Aizzat Zakaria currently serves as a senior lecturer at the Faculty of Manufacturing Engineering, Universiti Malaysia Pahang (UMP) located in Pekan, Pahang, Malaysia. He is a research member of the Innovative Manufacturing, Mechatronics and Sports Laboratory (iMAMS Lab).
Dr. Aizzat earned his first degree in Electrical-Mechatronics Engineering at the Universiti Teknologi Malaysia in 2010 which was fully sponsored by Majlis Amanah Rakyat (MARA) during his study. He was nominated for Vice Chancellor Award and Dean's List Awards during his first degree due to his outstanding achievement. After finished his first degree, he pursued a career as process R&D Engineer and Technical Project Manager at Intel Corporation under Assembly Test Capital Equipment Development (ATCED) department in Kulim, Kedah. After that, he pursued a Doctoral's degree in Mechatronics Engineering at the Universiti Teknologi Malaysia in Kuala Lumpur, which he graduated in 2015 and then continue to serve UMP as a senior lecturer.
His research interests include intelligent vehicle navigation, robotics system modelling, mechatronics system, and robotic rehabilitation. He believes that it is the responsibility of every researcher to give back to the society and his turn has come around.
| No | Code | Subject |
| --- | --- | --- |
| 1 | BFM4503 | ROBOTICS FOR ENGINEERS |
| 2 | BHM4102 | FINITE ELEMENT ANALYSIS |
| 3 | BHM3732 | PLC SYSTEM |
| 4 | BFM3303 | ELECTRICAL DRIVE SYSTEM |
| 5 | BFM4523 | AUTONOMOUS ROBOTIC SYSTEM |
| 6 | BFM4914 | FINAL YEAR PROJECT 2 |
| No. | Title | Role | Start Date | End date | Agency | Grant Amount(RM) | Status |
| --- | --- | --- | --- | --- | --- | --- | --- |
| 1 | Drebar : An Automation Embedded System Module | Leader | 01-JUN-2021 | 31-MAY-2023 | PEMBANGUNAN PRODUK | 30,000.00 | On-Going |
| 2 | Torque Analysis Of Platform Based End Effector Ankle Foot Orthosis For Rehabilitation | Leader | 10-DEC-2020 | 09-DEC-2022 | PGRS | 2,500.00 | On-Going |
| 3 | Steering Angle Estimation For Non-Holonomic System With Machine Learning | Leader | 10-DEC-2020 | 09-DEC-2022 | PGRS | 2,850.00 | On-Going |
| 4 | Mathematical Modelling Of The Combined Model Of Two-In-Wheel Non-Holonomic For Intelligent Vehicle Control. | Leader | 26-DEC-2019 | 25-MAR-2022 | GERAN DALAM | 26,000.00 | On-Going |
| 5 | Predictive Stability Model Of The Autonomous Vehicle Based On Road Profile Characteritics | Leader | 15-MAR-2019 | 14-MAR-2021 | PGRS | 3,500.00 | - |
| 6 | Investigation Of The Trajectory Tracking Error Of The Autonomous Non-Holonomic Nonlinear Uncertain Dynamics With The Effect Of The Weight Transfer Disturbance | Leader | 01-JAN-2019 | 30-SEP-2021 | FRGS | 84,800.00 | On-Going |
| 7 | Autonomous Tomato Harvesting Robotic System In Greenhouse Using Kuka Robot | Leader | 12-SEP-2018 | 12-SEP-2018 | GIFT/DONATION/SPONSOR | 0.00 | Finished |
| 8 | Autonomous Vehicle Stability Analysis At Critical Cornering | Leader | 25-AUG-2018 | 24-NOV-2020 | GERAN DALAM | 29,000.00 | - |
| 9 | Development Of A Task-Oriented, Auction-Based Task Allocation Framework For A Heterogeneous Multirobot System | Leader | 25-AUG-2018 | 24-NOV-2020 | GERAN DALAM | 31,500.00 | - |
| 10 | Pen Batches Localization Using Rfid Tag | Leader | 01-APR-2018 | 30-JUN-2020 | INDUSTRI | 20,000.00 | - |
| 11 | Active Stability Control Model Of Lateral Vehicle Dynamics To Improve Vehicle Comfort Level | Leader | 01-MAY-2017 | 01-MAY-2019 | GERAN DALAM | 22,000.00 | - |
| 12 | The Development Of Intelligent Drive System For Trajectory Tracking Applications | Leader | 25-MAY-2016 | 24-MAY-2018 | GERAN DALAM | 23,300.00 | - |
| 13 | Development Of Autonomous Mobile Robot For Optimum Hvac Duct Cleaning | Member | 03-MAY-2021 | 02-MAY-2022 | PADANAN INDUSTRI | 10,000.00 | On-Going |
| 14 | Development Of Autonomous Mobile Robot For Optimum Hvac Duct Cleaning | Member | 03-MAY-2021 | 02-MAY-2022 | INDUSTRI | 10,000.00 | On-Going |
| 15 | Development Of A Vehicle Health Monitoring System Based On The Vehicle Vulnerable Points | Member | 01-SEP-2019 | 30-NOV-2022 | FLAGSHIP UMP | 78,200.00 | On-Going |
| 16 | Development Of Cyber-Physical Systems (Cps) By Adopting Internet Of Things (Iot) At Ump And Hska | Member | 01-MAY-2019 | 31-JUL-2021 | PADANAN ANTARABANGSA | 49,500.00 | On-Going |
| 17 | Development Of Cyber-Physical Systems (Cps) By Adopting Internet Of Things (Iot) At Ump And Hska | Member | 01-MAY-2019 | 31-JUL-2021 | ANTARABANGSA | 178,080.00 | On-Going |
| 18 | Investigation On The Ride Comfort Of The Electric Powered Wheelchair While Avoiding Obstacle | Member | 01-APR-2019 | 30-JUN-2021 | GERAN DALAM | 29,000.00 | On-Going |
| 19 | A Predictive Human Comfort Model Based On Road Profile Characteristics | Member | 01-APR-2019 | 30-JUN-2021 | GERAN DALAM | 28,000.00 | On-Going |
| 20 | Development Of Smart Campus Autonomous Vehicle (Scav) | Member | 27-FEB-2019 | 26-NOV-2020 | FLAGSHIP UMP | 156,000.00 | On-Going |
| 21 | Mathematical Analysis Of Wheel-Soft Soil Interaction For Lightweight Vehicle Wheel With Variable Grouser Angle Mechanism | Member | 01-JAN-2019 | 30-SEP-2021 | FRGS | 74,500.00 | On-Going |
| 22 | Badminton Agility Training Device | Member | 31-DEC-2018 | 30-DEC-2019 | UMP-COMMUNITY TECHNOLOGY SOLUTION PLATFORM | 20,000.00 | - |
| 23 | Embedded System For Hvac In And Output Peripheral | Member | 01-OCT-2018 | 30-JUN-2021 | PADANAN INDUSTRI | 20,000.00 | On-Going |
| 24 | Intelligent Control Strategy Acquisition Technique In Autonomous Vehicle System For Mitigation Of Multiple Vehicle Collision | Member | 25-SEP-2018 | 24-DEC-2020 | GERAN DALAM | 20,500.00 | - |
| 25 | Development Of Multi-Vision Guided Obstacle Avoidance System For Ground Vehicle | Member | 25-AUG-2018 | 24-NOV-2020 | GERAN DALAM | 36,000.00 | - |
| 26 | A Vision-Based Lane Detection And Tracking Algorithm For Intelligent Drive System | Member | 25-APR-2018 | 24-JUL-2020 | GERAN DALAM | 26,000.00 | - |
| 27 | Design Strategy Of Stuck Recovery For Wheel Embedded Under The Surface Of An Unconsolidated Soft Sand Incline | Member | 25-APR-2018 | 24-JUL-2020 | GERAN DALAM | 23,000.00 | - |
| 28 | The Design And Control Of A Grasping Exoskeleton For Stroke Motor Function Recovery | Member | 01-APR-2018 | 23-SEP-2019 | GERAN DALAM | 29,000.00 | - |
| 29 | Development Of Gravitational Mechanism For Sustainable Electricity Generation | Member | 01-APR-2018 | 30-JUN-2020 | GERAN DALAM | 32,000.00 | - |
| 30 | Simulation Of Assistive Grouser Mechanism For Use On Lightweight Wheeled Robot For Traversing On Unconsolidated Soft Sand Inclines | Member | 30-JUN-2017 | 29-JUN-2019 | GERAN DALAM | 20,000.00 | - |
| 31 | Improving The Maneuverability Of Electric Vehicle With Four In-Wheel Motors And Mecanum Wheels | Member | 30-JUN-2017 | 29-JUN-2019 | GERAN DALAM | 22,000.00 | - |
| 32 | Development Of Capsule Bike As In-Campus Electric Vehicle | Member | 28-JUN-2017 | 27-SEP-2020 | FLAGSHIP UMP | 148,600.00 | - |
| 33 | Control Scheme For Vehicle Steering By Wire (Vsbw) System | Member | 20-JUN-2017 | 19-JUN-2019 | GERAN DALAM | 21,000.00 | - |
| 34 | Vehicle Locator System For Multi-Storage Car Park Management | Member | 20-JUN-2017 | 19-JUN-2019 | GERAN DALAM | 20,000.00 | - |
| 35 | Develop Effective Decision Making For Remanufacturing Automotive Components | Member | 15-MAY-2017 | 14-MAY-2019 | GERAN DALAM | 21,000.00 | - |
| 36 | Design Of Protective Headgear For Soccer Players Through Experimental And Computational Analysis | Member | 25-JUN-2016 | 24-JUN-2018 | GERAN DALAM | 23,300.00 | Finished |
| 37 | An Intelligent Robust Control Of Wheeled Mobile Robot In Restricted Environment Using Active Force Control And Resolved Acceleration Control | Member | 25-JUN-2016 | 24-JUN-2018 | GERAN DALAM | 28,300.00 | Finished |
| 38 | The Development Of An Intelligent Hybrid Active Force Controller For Upper-Limb Exoskeleton | Member | 15-JUN-2016 | 14-JUN-2018 | GERAN DALAM | 24,900.00 | Finished |
| No | Type | Author Role | Document Title | Authors | Year | Source |
| --- | --- | --- | --- | --- | --- | --- |
| 1 | Conference Paper | CO-AUTHOR | The power level control of a pressurised water reactor nuclear power plant | Mahendra Kumar J.L., Abdul Majeed A.P.P., Zakaria M.A., Mohd Razman M.A., Khairuddin M.I. | 2020 | Lecture Notes In Mechanical Engineering |
| 2 | Conference Paper | AUTHOR | Rover car outdoor localization for navigation tracking using differential global positioning system estimation | Chew W.K., Zakaria M.A. | 2020 | Lecture Notes In Mechanical Engineering |
| 3 | Conference Paper | AUTHOR | An Investigation on the Effect of Lateral Motion on Normal Forces Acting on Each Tires for Nonholonomic Electric Vehicle: Experimental Results Validation | Baarath K., Zakaria M.A., Bin Peeie M.H., Hamid U.Z.A., Nasir A.F.A. | 2020 | Lecture Notes In Mechanical Engineering |
| 4 | Conference Paper | CO-AUTHOR | Comparison of Support Vector Machine and Friis Equation for Identification of Pallet-Level Tagging Using RFID Signal | Sern C.C., Nasir A.F.A., Abdul Majeed A.P.P., Zakaria M.A., Mohd Razman M.A., Azmi A. | 2020 | Iscaie 2020 - Ieee 10th Symposium On Computer Applications And Industrial Electronics |
| 5 | Conference Paper | CO-AUTHOR | Modification of Lab color model for minimizing blue-green illumination of underwater vision system | Ghani A.S.A., Nasir A.F.A., Zakaria M.A., Ibrahim A.N. | 2019 | Proceedings Of The 2018 25th International Conference On Mechatronics And Machine Vision In Practice, M2vip 2018 |
| 6 | Conference Paper | AUTHOR | The control of an upper extremity exoskeleton for stroke rehabilitation by means of a hybrid active force control | Taha Z., Abdul Majeed A.P.P., Abdullah M.A., Azmi K.Z.M., Zakaria M.A.B., Ghani A.S.A., Hassan M.H.A., Razman M.A.M. | 2019 | Advances In Intelligent Systems And Computing |
| 7 | Conference Paper | AUTHOR | Performance assessment of an integrated radar architecture for multi-types frontal object detection for autonomous vehicle | Zakuan F.R.A., Hamid U.Z.A., Limbu D.K., Zamzuri H., Zakaria M.A. | 2019 | Proceedings - 2018 Ieee International Conference On Automatic Control And Intelligent Systems, I2cacis 2018 |
| 8 | Conference Paper | AUTHOR | Multi-actuators vehicle collision avoidance system - Experimental validation | Abdul Hamid U.Z., Zakuan F.R.A., Zulkepli K.A., Azmi M.Z., Zamzuri H., Rahman M.A.A., Zakaria M.A. | 2018 | Iop Conference Series: Materials Science And Engineering |
| 9 | Conference Paper | CO-AUTHOR | Forward and Inverse Predictive Model for the Trajectory Tracking Control of a Lower Limb Exoskeleton for Gait Rehabilitation: Simulation modelling analysis | Zakaria M.A., Majeed A.P.P.A., Taha Z., Alim M.M., Baarath K. | 2018 | Iop Conference Series: Materials Science And Engineering |
| 10 | Article | AUTHOR | Piecewise Trajectory Replanner for Highway Collision Avoidance Systems with Safe-Distance Based Threat Assessment Strategy and Nonlinear Model Predictive Control | Hamid U.Z.A., Ariff M.H.M., Zamzuri H., Saito Y., Zakaria M.A., Rahman M.A.A., Raksincharoensak P. | 2018 | Journal Of Intelligent And Robotic Systems: Theory And Applications |
| 11 | Conference Paper | AUTHOR | Autonomous emergency braking system with potential field risk assessment for frontal collision mitigation | Hamid U.Z.A., Zakuan F.R.A., Zulkepli K.A., Azmi M.Z., Zamzuri H., Rahman M.A.A., Zakaria M.A. | 2018 | Proceedings - 2017 Ieee Conference On Systems, Process And Control, Icspc 2017 |
| 12 | Conference Paper | CO-AUTHOR | The Control of a Lower Limb Exoskeleton for Gait Rehabilitation: A Hybrid Active Force Control Approach | Majeed A.P.P.A., Taha Z., Abidin A.F.Z., Zakaria M.A., Khairuddina I.M., Razman M.A.M., Mohamed Z. | 2017 | Procedia Computer Science |
| 13 | Article | AUTHOR | I-Drive: Modular system architecture and hardware configuration for an intelligent Vehicle research platform | Zulkepli K.A., Zamzuri H., Rahman M.A.A., Yahya W.J., Zakaria M.A., Azmi M.Z., Zakuan F.R.A., Ismail N.H.F., Zakariya M.S. | 2017 | Arpn Journal Of Engineering And Applied Sciences |
| 14 | Article | CO-AUTHOR | Characterisation of activity based costing on remanufacturing crankshaft | Abu M.Y., Jamaludin K.R., Zakaria M.A. | 2017 | International Journal Of Automotive And Mechanical Engineering |
| 15 |   Conference Paper | AUTHOR | Dynamic Curvature Steering Control for Autonomous Vehicle: Performance Analysis |   Zakaria M.A., Zamzuri H., Mazlan S.A. | 2016 |   Iop Conference Series: Materials Science And Engineering |
| 16 |  Conference Paper | AUTHOR | Autonomous mobile robot localization using Kalman filter |  Nasir N.Z.M., Zakaria M.A., Razali S., Abu M.Y.B. | 2016 |  Matec Web Of Conferences |
| 17 |  Conference Paper | AUTHOR | Platooning strategy of mobile robot: Simulation and experiment |  Baarath K., Zakaria M.A., Suparmaniam M.V., Abu M.Y.B. | 2016 |  Matec Web Of Conferences |
* Records till 31 July 2020
| No | Project | Customer | Start Date | End Date | Project Amount (RM) |
| --- | --- | --- | --- | --- | --- |
| 1 | Smart Autonomous In Vehicle Technology | RGM Network | 28-SEP-2020 | 06-NOV-2020 | 150,000.00 |
| No | Type | Name | Registration No | File Date |
| --- | --- | --- | --- | --- |
| 1 | Patent | Low Cost Indoor Mapping System | | |
* Data sehingga 11 April 2019