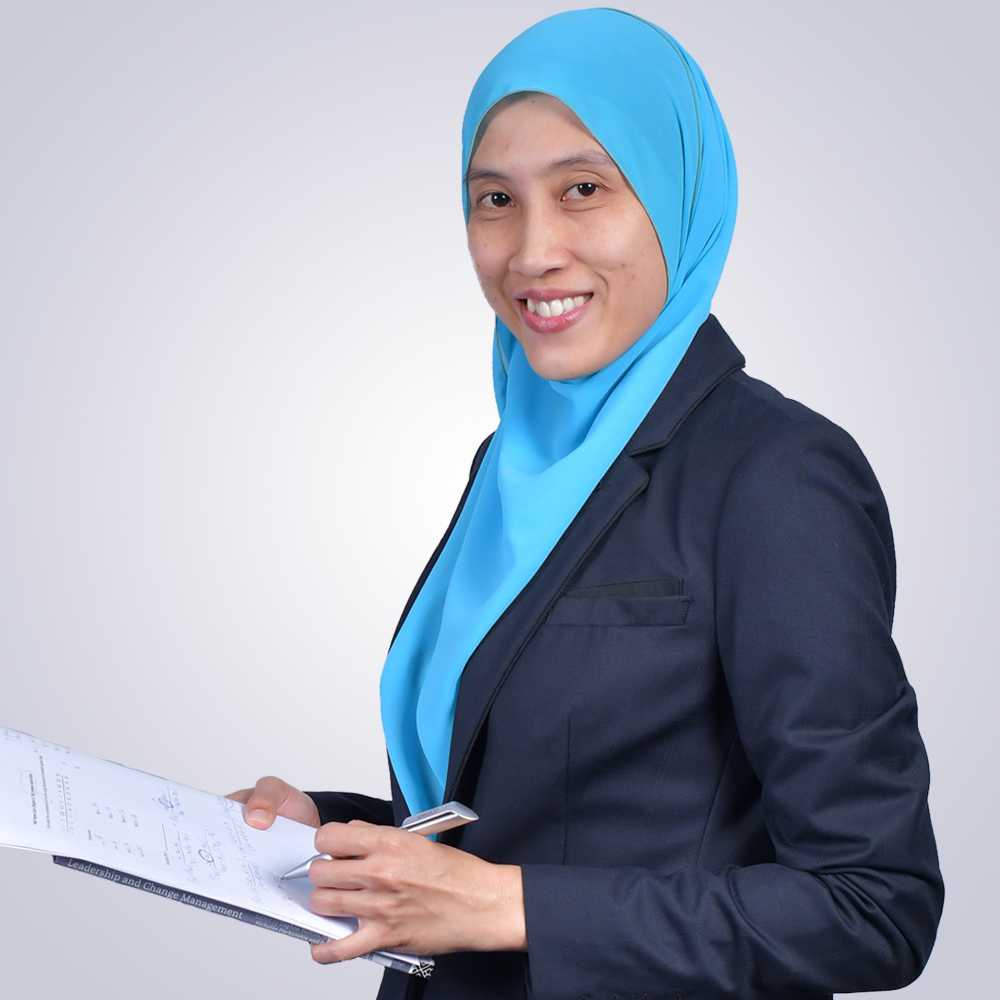 Doctor Of Philosophy(2013)
Newcastle University, Newcastle, UK
Sarjana Sains (Kejuruteraan Kimia Dan Proses)(2007)
Universiti Kebangsaan Malaysia, Bangi
Sarjanamuda Kejuruteraan Biokimia(2002)
Universiti Kebangsaan Malaysia, Bangi
Biography
---
I'm a lecturer in Faculty of Chemical & Process Engineering Technology for almost 10 years and counting on. At the same time I also responsible as a Deputy Director at Centre for Academic Innovation and Competitiveness (CAIC), Universiti Malaysia Pahang (UMP). I received my Bachelor in Chemical Engineering (Biochemical) from Universiti Kebangsaan Malaysia (UKM). I joined Kolej Universiti Kejuruteraan & Teknologi Malaysia (now Universiti Malaysia Pahang) in 2006 as a tutor. I completed my Master of Science (Chemical Engineering) in 2007. In 2013, I obtained my PhD degree in Chemical Engineering and Advanced Materials from Newcastle University, UK.
My passion in teaching and learning was on gamification and unconventional way of delivery the course content. I believe learners are different and there are all unique on its way. It will be my obligation to apply various way so that each one of them can learn effectively.
My interest on technical and fundamental researchs are revolve with waste to wealth and fermentation technology.
I have my interest on developing and innovate the Oscillatory Baffled Biorector for multiple purpose. Currently the bioreactor was developed for biology purposed and later plan to be applied in wastewater treatment.
I have isolated local strain from landfill soil in which the microbes can be used to degrade cellulosic materials.
Currently I'm developing an optimize process to produce biovinegar from pineapple waste. The project is heavily supported by the local company Pekan Pina Sdn. Bhd.
| No | Code | Subject |
| --- | --- | --- |
| 1 | BKC2463 | SCIENCE & ENGINEERING MATERIALS |
| 2 | BTV3333 | BIOBASED FUELS AND ALTERNATIVE ENERGY APPLICATIONS |
| 3 | DKK2761 | UNIT OPERATIONS LAB |
| 4 | BTP1213 | BIOLOGY FOR ENGINEERS |
| 5 | BKB3363 | SCIENCE & ENGINEERING MATERIALS |
| 6 | BKF2443 | NUMERICAL METHODS & OPTIMIZATION |
| 7 | KUK2443 | NUMERICAL METHODS & OPTIMIZATION |
| 8 | BKB2212 | BIOCHEMISTRY |
| 9 | BKB2761 | BIOCHEMISTRY & MICROBIOLOGY LABORATORY |
| 10 | BKB2213 | BIOCHEMISTRY |
| 11 | BTK2244 | NUMERICAL METHODS |
| 12 | BKB3781 | BIOSEPARATION ENGINEERING LAB (E) |
| No. | Title | Role | Start Date | End date | Agency | Grant Amount(RM) | Status |
| --- | --- | --- | --- | --- | --- | --- | --- |
| 1 | Integrated Pollutant-Targeted Wastewater Treatment Using Cyclodextrin-Functionalized Rice Husk Biochar | Leader | 02-JAN-2020 | 01-JAN-2022 | AGENSI | 46,500.00 | On-Going |
| 2 | Self Paced Learning: Ump Implementation | Leader | 15-DEC-2019 | 14-MAR-2022 | GERAN DALAM | 24,600.00 | On-Going |
| 3 | Elucidation Of Synergistic Effect Between Parameter Affecting Xylanase Production Via Conventional And Ultrasonic Assisted Fermentation | Leader | 01-JAN-2019 | 30-SEP-2021 | FRGS | 84,180.00 | On-Going |
| 4 | Screening Of Culture Condition For Xylanase Production Via Factorial Analysis | Leader | 01-MAR-2018 | 28-FEB-2020 | PGRS | 2,500.00 | - |
| 5 | Fundamental Investigation Of The Mass Transfer For The Gas-Liquid Mixing System In An Oscillatory Baffled Reactor | Leader | 02-NOV-2015 | 01-NOV-2017 | FRGS | 118,200.00 | Finished |
| 6 | Ferulic Acid Production From Banana Stem Waste Using Mechanical Extraction | Leader | 01-OCT-2015 | 30-SEP-2017 | GERAN DALAM | 35,700.00 | Finished |
| 7 | Design And Fabrication Of In Situ Liquid-Liquid Extraction For Removal Of Toxic Production From Fermentation Broth | Leader | 01-APR-2014 | 31-MAR-2016 | GERAN DALAM | 35,500.00 | Finished |
| 8 | Formulation Of Enzyme Juice Derived From Pineapple Waste To Be Used As Poultry Feed | Member | 01-MAR-2020 | 28-MAY-2021 | PADANAN INDUSTRI | 21,500.00 | On-Going |
| 9 | Formulation Of Enzyme Juice Derived From Pineapple Waste To Be Used As Poultry Feed | Member | 01-MAR-2020 | 28-MAY-2021 | INDUSTRI | 24,800.00 | On-Going |
| 10 | Correlation Of Fouling Mechanism With Enzymatic Hydrolysis In An Enzyme-Membrane Integrated System For High Sugar Permeation From Pineapple Leaves | Member | 01-SEP-2019 | 31-MAY-2022 | FRGS | 96,600.00 | On-Going |
| 11 | Production Of Pineapple Vinegar From Pineapple Fruits And Microbes Inhibitor From Pineapple Leaves | Member | 01-MAR-2019 | 31-AUG-2019 | INDUSTRI | 20,026.00 | - |
| 12 | Investigation Of An Enzyme-Membrane Integration System For High Sugar Permeation From Pineapple Residues | Member | 05-MAY-2018 | 04-AUG-2020 | GERAN DALAM | 31,650.00 | - |
| 13 | Modelling And Simulation Of Anaerobic Digestion Process For Municipal Solid Waste Treatment | Member | 30-JUN-2017 | 29-JUN-2019 | GERAN DALAM | 20,000.00 | - |
| 14 | Solving Universiti Malaysia Pahang Examination Invigilators Scheduling Problem Using Step-Counting Hill Climbing | Member | 30-JUN-2017 | 29-JUN-2019 | GERAN DALAM | 24,999.00 | - |
| 15 | Academic Talent Management System (Atms) Rubric To Identify Multitrack Inclination For Academic Staff In Universiti Malaysia Pahang | Member | 30-JUN-2017 | 29-JUN-2019 | GERAN DALAM | 24,700.00 | - |
| 16 | Waste To Wealth Project With Mercu Resoution | Member | 24-JUN-2017 | 24-SEP-2018 | INDUSTRI | 15,000.00 | - |
| 17 | Adsorption Property Of Dengue Virus (Dv) - Specific Immunoglobulin M (Igm) Antibody Onto Dye Ligands Reduced Graphene Oxide | Member | 25-JUN-2015 | 24-JUN-2017 | GERAN DALAM | 30,000.00 | Finished |
| 18 | Development Of A Biochemical And Functional Properties Of Local Breed Goat Milk Casien | Member | 25-DEC-2014 | 24-DEC-2016 | GERAN DALAM | 28,600.00 | Finished |
| 19 | Development Of Flooded Soil Recovery Via Arbuscular Mycorrhizal Fungi (Amf) Symbiotic | Member | 01-JUL-2014 | 30-JUN-2016 | FRGS | 97,000.00 | Finished |
| 20 | Surface Modification Of Activated Carbon From Rice Husk For Co2 Capture | Member | 01-JUL-2014 | 30-JUN-2016 | FRGS | 91,200.00 | Finished |
| 21 | Fundamental Study On The Reaction Mechanisms And Kinetics Of Biobutanol Production From Oil Palm Frond Juice In A Stirred Tank Bioreactor | Member | 01-JUL-2014 | 30-JUN-2017 | FRGS | 119,000.00 | Finished |
| 22 | Investigation The Effect Of Polymers-Surfactant Complexes On The Multiphase Flow In Microfluidics Applications | Member | 01-APR-2014 | 31-MAR-2016 | GERAN DALAM | 28,800.00 | Finished |
| 23 | Computational Fluid Dynamics Technique Using Finite Element Analysis For Tumor Detection Using Ultrasound And Mammogram Patient Images | Member | 01-APR-2014 | 31-MAR-2016 | GERAN DALAM | 20,500.00 | Finished |
| 24 | Optimization Of Butanol Production From Palm Oil Mill Effluent (Pome) Using Solventogenic Clostridia | Member | 01-MAY-2009 | 30-APR-2012 | GERAN DALAM | 40,000.00 | - |
| 25 | Production Of Bio-Ethanol From Cassava Starch Using Saccharomyces Cerevisiae | Member | 01-AUG-2008 | 31-JUL-2009 | GERAN DALAM | 15,500.00 | - |
| 26 | Development Of Biodegradable Film For Food Packaging Application | Member | 01-AUG-2008 | 31-OCT-2009 | GERAN DALAM | 17,000.00 | - |
| 27 | Development Of Chitosan Based Adsorbent For Removal Of Oil From Industrial Wastewater | Member | 30-MAR-2007 | 30-MAR-2008 | GERAN DALAM | 150,000.00 | - |
| No | Type | Author Role | Document Title | Authors | Year | Source |
| --- | --- | --- | --- | --- | --- | --- |
| 1 | Conference Paper | AUTHOR | Enzymatic hydrolysis of lignocellulosic biomass from pineapple leaves by using endo-1,4-xylanase: Effect of pH, temperature, enzyme loading and reaction time | Rosdee N.A.S.M., Masngut N., Shaarani S.M., Jamek S., Sueb M.S.M. | 2020 | Iop Conference Series: Materials Science And Engineering |
| 2 | Conference Paper | CO-AUTHOR | Factorial experimental design for xylanase production by Bacillus sp. isolated from Malaysia landfill soil | Rosli S.N.A., Che Man R., Masngut N. | 2020 | Iop Conference Series: Materials Science And Engineering |
| 3 | Article | AUTHOR | Screening of culture conditions for production of xylanase from landfill soil bacteria | Rosli S.N.A., Man R.C., Masngut N. | 2019 | Indonesian Journal Of Chemistry |
| 4 | Conference Paper | AUTHOR | Biobutanol production from oil palm frond juice in 2 L stirred tank bioreactor with in situ gas stripping recovery | Asri F.M., Masngut N., Zahari M.A.K.M. | 2019 | Iop Conference Series: Materials Science And Engineering |
| 5 | Article | AUTHOR | Characterisation of the oscillatory flow reactor for the fermentation of Escherichia coli | Azaini N.N., Masngut N. | 2018 | Malaysian Applied Biology |
| 6 | Conference Paper | CO-AUTHOR | Kinetic study on ferulic acid production from banana stem waste via mechanical extraction | Zainol N., Masngut N., Jusup M.K. | 2018 | Iop Conference Series: Materials Science And Engineering |
| 7 | Article | AUTHOR | Oscillatory flow reactor design for biological process | Azaini N.N., Masngut N. | 2017 | Journal Of Mechanical Engineering And Sciences |
| 8 | Conference Paper | CO-AUTHOR | Statistical Optimization for Biobutanol Production by Clostridium acetobutylicum ATCC 824 from Oil Palm Frond (OPF) Juice Using Response Surface Methodology | Nasrah N.S.M., Zahari M.A.K.M., Masngut N., Ariffin H. | 2017 | Matec Web Of Conferences |
* Records till 31 July 2020
| No | Project | Customer | Start Date | End Date | Project Amount (RM) |
| --- | --- | --- | --- | --- | --- |
| No | Type | Name | Registration No | File Date |
| --- | --- | --- | --- | --- |
* Data sehingga 11 April 2019